Woman asks her 101-year-old great-grandmother to be her bridesmaid: "I made her a promise when I was young" (+VIDEO)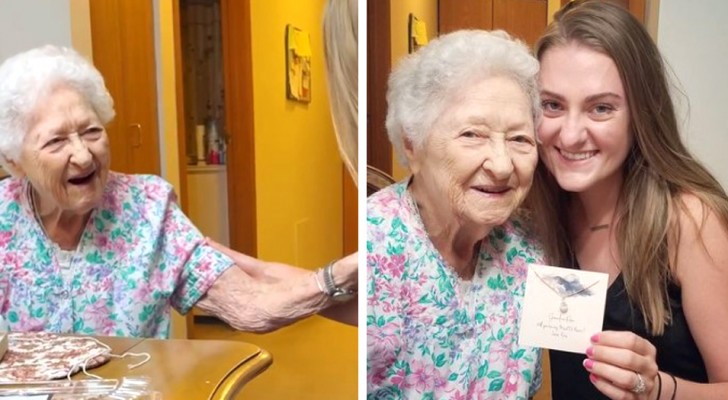 Advertisement
Grandmas and grandpas are special people, we have to admit this fact. Anyone who is still lucky enough to have one or both of their grandparents knows how precious these relatives can be.
The relationship that you create with your children's children is something magical and it's a bond that becomes stronger day by day. This happens with both grandparents and great-grandparents and, when they are so important to us, we try to involve them as much as possible in the big events of our lives. The subjects of this story know all about this, so let's find out who they are together:
Advertisement
Erin Radmann and Rose are granddaughter and great-grandmother respectively, and who, ever since Erin was little, have had a special relationship. In fact, at the tender age of 13, Erin promised her granny that she would be her bridesmaid if she ever got married.
And Erin kept her word - even if it did take her a little longer to meet her soul mate. But when the moment arrived, Grandma Rose, at the ripe old age of 101, was still in Erin's life.
Erin didn't just ask her grandma to be her bridesmaid, but she bought her a necklace and printed a note that she hid inside the box. When Rose opened the gift, sitting at the table with her niece, and read the contents, she couldn't help but be surprised and delighted.
"Grandma Rose, would you like to be my bridesmaid? Love, Erin." A simple message that revealed all the love between these two women. Many years to divided them, but a deep and loving feeling united them. Obviously, Rose didn't hesitate immediately agree to be Erin's bridesmaid. Unfortunately, however, Rose passed away before the wedding.
Advertisement
Devastated by the sad event, but aware that, wherever she was, grandmother Rose would be by her side anyway, Erin displayed a photo of her grandmother at the wedding. No one could give Erin her grandmother back, but she still found a way to have her next to her. In a post to social media, Erin wrote: "Thank you for being my maid of honor and looking down on me from heaven".
This is a very moving story that fills our hearts with joy. Grandparents are priceless treasures and we must cherish them.