Teenager continually disrupts school lessons: his father shows up at the school and sits next to him to punish him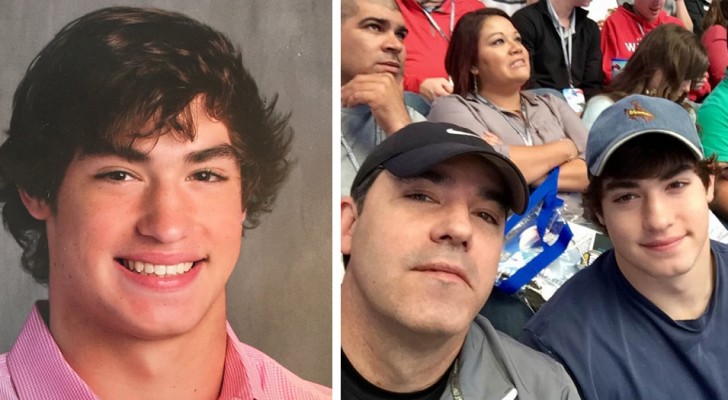 Advertisement
Do you remember when your teenagers stayed at a significant physical distance from you (even when walking together in the street), as if being close to you could somehow reflect negatively on them? Well, this is very common behavior for teenagers to display. They want want more independence and try to distance themselves - physically and emotionally - from their parents. And this is why a very determined father decided to punish his 17-year-old son by "shadowing him" after discovering that he wasn't doing well in school. Let's find out what happened:
Advertisement
Raising children is always a very personal affair, although parents can find many points in common with each other's methods. The dad, who is the focus of this story, Bradley Howard, certainly found an original way to punish his son, Denis, who was behaving badly at school. Repeatedly, the 17-year-old's teachers had reported that "Dennis talked too much during lessons". After a number of ineffective warnings and punishments, Brad tried something that was almost certain to succeed in dealing with his disobedient son.
"For some reason I was like, 'Hey, if we get another call like that, I'm going to show up at school and sit next to you in class,'" said Brad, tapping into one of the biggest fears a teenager has: being seen with your parent.
And guess what? It didn't take long before yet another phone call cam in from school about Dennis and so, Brad was forced to show up at his son's school. While it wasn't something he really wanted to do, he knew he had to deal with his son in some way.
"Friday is my only day off, so my wife wakes me up and says, 'Brad, it's time for you to go to school.' I thought, oh no, what have I done?" Brad said. But Brad kept his word: he sat at his son's desk in class, even before the young man realized what was happening. "I didn't even notice him come in, and when I saw him sitting there, I was stunned," Dennis said. Obviously all his classmates had a good laugh and the young man immediately understood that he had to change his attitude. The physics professor thanked Brad for the "lesson", and also added that he hoped it will never happen again.
What do you think? Did this dad find the ideal solution to deal with his disobedient son?