After 60 years, she wears her grandmother's wedding dress: it had been in a cellar since 1961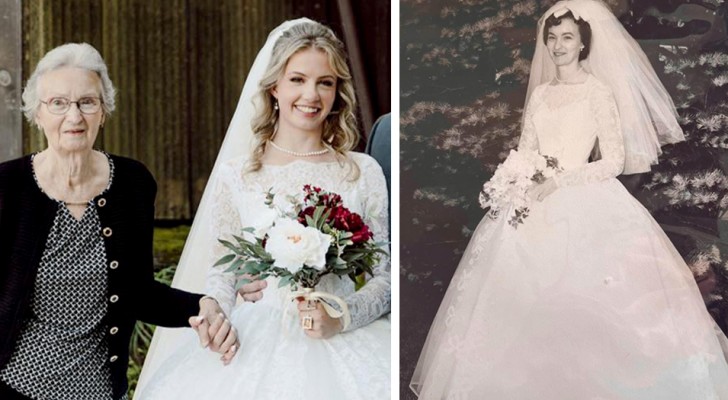 Advertisement
There are many traditions related to weddings. Every country, every family has its' own traditions and, for those who choose to respect them, it is always very exciting. Among these traditions is the bride receiving "something old", given as a gift from someone very close. This item can be anything and whether it is valuable or not, it doesn't matter - what it represents is much more important.
Some of you will remember what you got and will never forget it. This is the story of a young woman who received a wonderful gift from her grandmother.
via Daily Mail
Advertisement
Allie Livingwater is a young, 23-year-old from Massachusetts, in the United States, who has become famous on the web for sharing one of the most beautiful and important moments of her life. The young woman crowned her dream of love and married her 27-year-old fiance, Timothy recently. However, the thing that moved users was linked to the dress Allie wore.
Every bride-to-be dreams of the dress that she will wear on one of the happiest days of her life. Allie did too, but she never expected that hers would be so special. In fact, Allie was lucky enough to wear the dress that her grandmother had worn 60 years earlier when she married Allie's grandfather.
Allie said that one day, she had gone into the cellar with her grandmother, 88-year-old Anne Cooke, and she noticed a bag sitting in the corner. Asking what it was, Allie's grandmother told her that it contained her "old" wedding dress, now forgotten and dusty. The dress had never been worn again after Anne got married.
It was at this moment that Allie decided this dress would be her wedding dress. A few years later, Allie made good on her word and got married in her grandmother's wedding dress. Photos of the wedding were posted to Allie's Facebook account where she appears alongside her beloved grandmother wearing the dress.
Advertisement
Linked by a deep affection, Allie and Anne have always had a very close relationship. And by wearing her grandmother's wedding dress, Allie has strengthened this relationship even more.
We hope that the memory of this day will accompany Allie and Anne in the future and their close bond endures. We thank this grandma and granddaughter for sharing this moment with us.