Man with Aspergers marries a woman with Down Syndrome and they want children, but many oppose it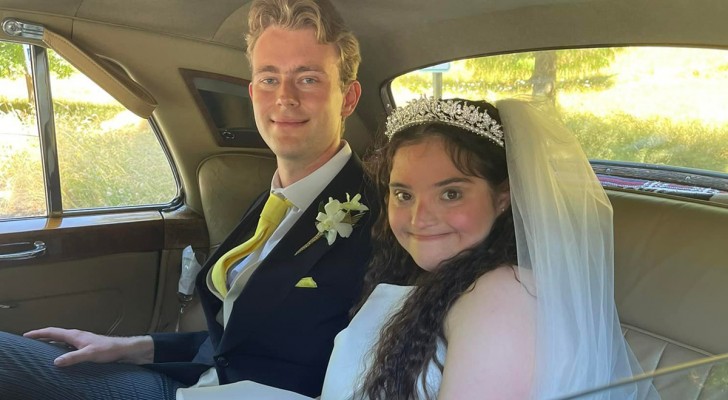 Advertisement
It may seem obvious, but when you find your soul mate it is possible to overcome any obstacle, since love - true love - knows no bounds: not ethnic, nor religious, nor other challenges posed by Down syndrome, autism or aspergers. Love is a universal force that unites people no matter what.
The love story between Riley Emlen, a pasta enthusiast who plays six instruments and has Asperger's syndrome, and Charlotte "Charlie" Fien, with Down's syndrome and autism, is a striking example of this: here is their incredible history.
via Amomama
Advertisement
The two have been married since July 30, 2022, and their union was born in an unexpected and unconventional way. Emlen fell in love with Fien after watching a video that affected him deeply.
While scrolling through his Facebook feed, Emlen stumbled across a video that showed a lovely girl giving an inspiring speech about advocating for the rights of people with disabilities. He immediately perceived her beauty and decided to share the video. But it took a while before he started communicating directly with Fien.
Emlen confessed that she spent a long time wondering if she would ever find a soul mate and if she would have a chance to have children. However, that all changed when she met Fien. After video chatting, they finally met in person and had an unforgettable week together. After that first week, Emlen decided to fly to England to spend another week with Fien. On the last day, he worked up the courage to propose to her in a pub in Guilford.
Advertisement
The two are now inseparable and are already planning to have children in the near future. However, they didn't expect to face public opposition regarding their desire to start a family.
In a Facebook post updating their followers on their relationship after their wedding the previous year, Emlen shared the following message: "It's important that people with different abilities have the opportunity to become parents. We strongly believe in this. Some doubt that people with Asperger's Syndrome, autism or Down's can raise children. However, as a paraeducator, I spend almost 30 hours a week during term time practically caring for a child... and Charlotte herself has experience with them."
Fien and Emlen's romance continues to flourish and together they are proving to anyone who might doubt their abilities that they are more than capable of accomplishing any goal they set for themselves.
Advertisement