Mother abandons her infant son at her ex-boyfriend's house: he decides to raise the child even though he's not the father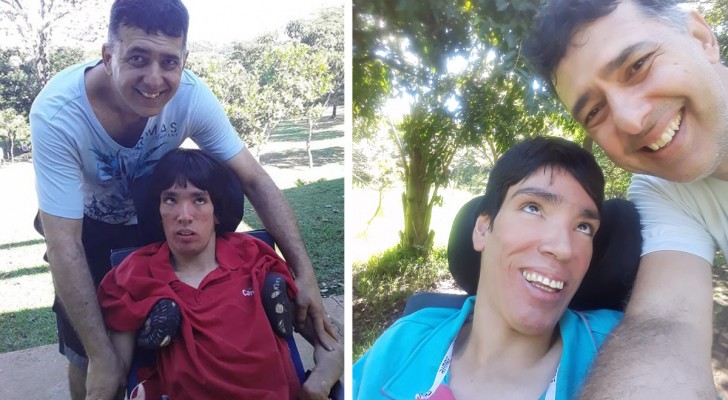 Advertisement
In a world made up of inter-personal ties, the idea of a mother abandoning her child is horrific. Motherhood, a symbol of unconditional love, is cast into doubt by acts like these - but they do happen.
That said, kindly strangers are sometimes prepared to step in and help the abandoned children: this is exactly what happened to Davyd Cesário Silva when he was only a few months old. Here is his story:
via Metropoles
Advertisement
Moisés Costa, 52, described his relationship with Davyd, 25, saying: "He is my son. We are brothers in the official documents, but he is my son and my best friend. I do everything I can to take care of him." Young Davyd suffers from cerebral palsy, epilepsy, permanent limb atrophy and cognitive impairment.
Davyd was abandoned by his biological mother in the first few months of his life in the capital of Goiás, Brazil. Davyd was left by his mother with Moisés (who at the time was her ex-boyfriend). The woman claimed Moisés was Davyd's father, but a DNA test ruled that out later. The young man cannot walk, speak and has the cognitive abilities of a very young child.
Moisés revealed that he found out about Davyd's mother's pregnancy when she was already five months "down the road". Given this, Moisés knew he could not be the child's father. "We kept dating, but she lived in a country town. She called me saying she was five months pregnant and then disappeared. When Davyd was about two months old, she stepped out to do some shopping and she never came back," Moisés said.
Advertisement
Moisés said Davyd fell ill shortly afterwards and was taken to hospital. "Because of his frequent seizures and blackouts, the boy needed medical attention, but civil registration was required to receive treatment. My mother and stepfather registered Dayvd as my brother to save his life," he explained.
Davyd's new family was unaware of the full extent of the child's health. "After he fell ill, doctors ordered tests and discovered he had a serious brain injury," he continued. Although they are registered as brothers, Moisés considers and treats Davyd as his son.
Moisés stated that Dayvd's biological mother rarely visited him and she never offered help. Moisés explained that Davyd receives care at the Dr. Henrique Santillo State Rehabilitation and Readaptation Center (CRER).
With the help of Moisés' mother, Maria José, 72, the family has helped Dayvd in every way they can, but today they are hoping to find a biological relative who can help them out: "I want to be at peace knowing that if my mother and I are no longer around, Davyd will not be left alone in the world. I don't want someone to take him away from me; we will continue to look after him, but I want to be sure that, in our absence, someone else will be able and willing to take care of him".
Advertisement