Stepchildren give a gift to their father's partner and then kneel before her (+VIDEO)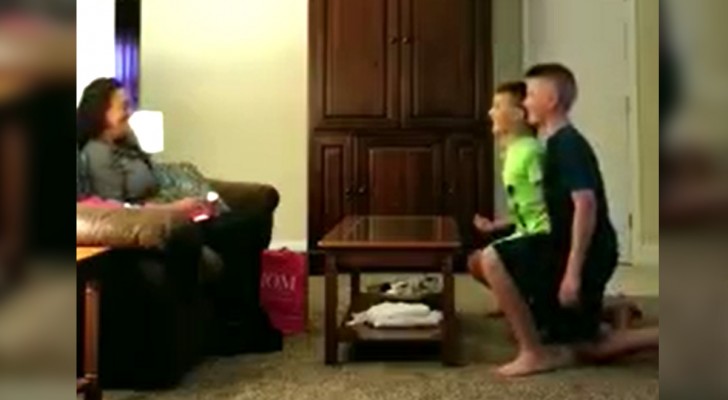 Advertisement
Every marriage proposal is unique and special, but there are some "ingredients" that must never be missing: unconditional love, self-confidence, the desire to share, intimacy and open communication. And, of course, you first have to be sure that your partner is ready to say "yes". Then you have to choose the place, the moment and the most appropriate way for the proposal to be made. It can be a romantic setting or one that has a lot of meaning for the couple. And, of course, the proposal's wording has to be perfect. And one can never forget bringing along the engagement ring!
via Shareably
Advertisement
A truly unique and tender proposal was organized by Steve Lee. When he met the woman he knew he wanted to marry, he knew the importance of finding the perfect way to ask for her hand. Theresa Morgan Johnson has played a significant role in Steve's children's lives, so it was important to get the kids involved in event.
On a day seemingly like any other, Theresa returned home and was welcomed ethusiastically by her three young stepchildren. They sat her down on the sofa and, despite her concern and confusion, told her they had a present for her. Initially skeptical, the children brought Theresa a small box with the words "Mom" written on it.
Theresa unwrapped the gift cautiously, fearing some type of kids' prank. But when she saw the ring, the three children knelt down in front of her saying: "We love you deeply and we want to know if you will marry our dad". On cue, Steve walked into the room with a huge grin on his face. He too knelt down and asked for Theresa's hand in marriage. Theresa, visibly overcome with emotion, replied "Yes".
At this point, the three children hugged each other in a group hug, visibly thrilled. Later, Steve showed Theresa that the entire proposal "event" had been recorded on video. We wish this couple all the best for the future!