A woman hosts a stray chihuahua to give birth; the next day, the dog gives birth to 11 puppies
The story of this Chihuahua dog called LOL, logically speaking should make people laugh.
But although her name means "laughing out loud£, we are convinced that rather than laughing, the people who had LOL in foster care were left speechless.
In fact, LOL was rescued from a hoarding situation together with a group of other Chihuahuas in the city of Mission (Texas) and was given in foster care to a family temporarily. She was visibly pregnant and needed a safe place to give birth immediately ...
The family who decided to host LOL for her delivery had noticed that her belly was very big, but they did not expect this!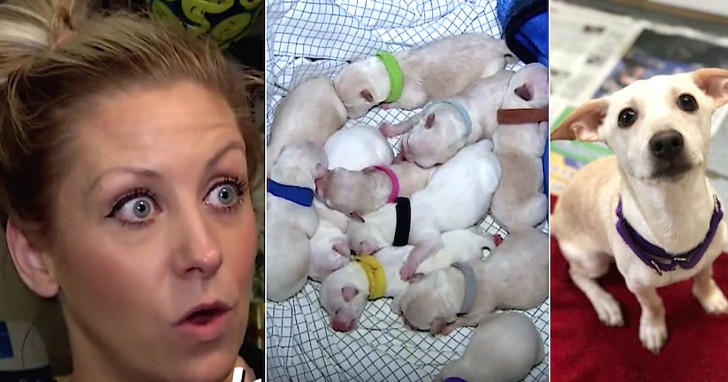 Shortly after arriving at Josie Boyd Brown's home, LOL felt calm and safe and went into labor but:"After the fourth puppy we noticed that her womb still looked very swollen", said the woman. Usually, dogs of this breed give birth on average to five puppies, but in the case of LOL what happened was that she gave birth to a record litter of ten Chihuahua puppies!
However, the following morning, when Josie approached LOL to make sure everything was under control and to take a closer look at the puppies --- she discovered that there were eight males and three females! Yes, LOL had given birth to not ten but eleven puppies, which in all likelihood made her the most prolific mother of the Chihuahua breed!
Another curiosity!? The eleven puppies were born on the same day when Puppy Dog Day is celebrated in the USA (March 23). A beautiful coincidence for this happy ending, don't you think?