An easy recipe for Parmesan Potato Stacks!
Since muffins have become a craze, many people have bought a muffin pan to prepare them at home, the type that has several cups, usually six, in which to pour the batter.
However, few people know how to use a muffin pan other than in the traditional way. In fact, the recipes that can be prepared using a muffin pan are several and today you will learn one. The protagonists are potatoes, assembled to form small "towers", whose taste is enhanced by thyme and Parmesan cheese.

Here are the ingredients for two 6-muffin baking pans:
• 45 g of butter + more to grease the pans
• 25 g Parmesan cheese
• a teaspoon of garlic powder
• a teaspoon of thyme
• 8/10 potatoes
• salt and pepper
First of all, grease the muffin pans, spreading the butter into each cup.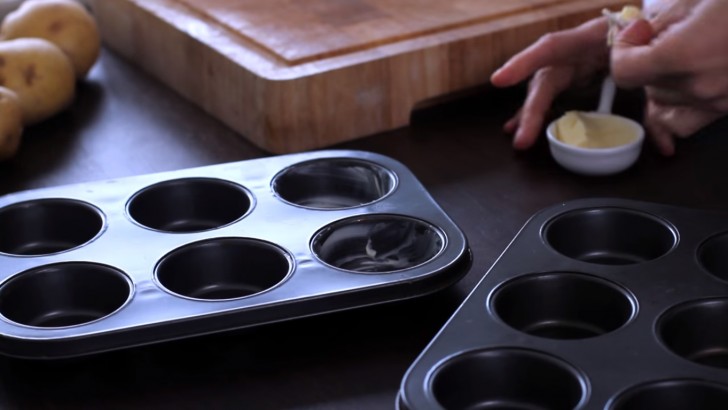 Cut the potatoes into thin slices, using a mandolin. Be very careful not to cut your fingers!
Transfer the sliced ​​potatoes into a large bowl; pour in the melted butter then add the garlic powder, salt, thyme, and pepper. Mix with your hands.
Pick up a few slices and create the "towers" then place them in the muffin pan cups.
Add a sprinkling of salt and pepper on the towers, then put the muffin pans in the oven. Cook for about an hour at 190 ° C.
Once out of the oven, let the potatoes stand for 5 minutes , sprinkle with Parmesan and thyme. . . Enjoy your meal!
The simplicity of this recipe is amazing, not to mention the appearance of the finished dish! Amaze your dinner guests with a whole new way of cooking potatoes!
Watch the video to not miss any of the steps in the recipe!