Model defies all prejudices and presents herself in front of everyone with her 'unibrow'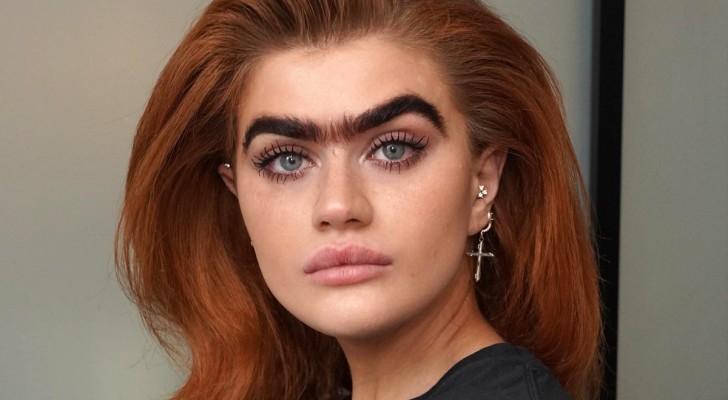 Advertisement
Taking care of one's person is a mantra these days, and there are plenty of centres one goes to in order to achieve the look one desires. Being comfortable with oneself is essential to find balance and to be able to cope better with others. It is becoming increasingly common, for example, to turn to hair removal treatments in order to look our best, but men and women do not always feel satisfied getting rid of excess hair.
This is something that is certainly shared by a well-known celebrity who has made a name for herself in the field of fashion precisely because of her physical peculiarity. Let's see who she is.
via Daily Mail
Advertisement
Many of us have heard before of the supermodel Sophia Hadjipanteli, only 25 years old, who has become a global icon thanks to her 'bold' choice not to shave her eyebrows. The young woman has managed to achieve astounding success and become a spokesperson for those who have chosen not to submit to the clichés imposed by society.
Originally from Cyprus, Sophia caused a lot of controversy because of - or thanks to - her appearance at the Cannes Film Festival. Wrapped in a stunning black dress with a train, rhinestones and a long frontal neckline, the young woman caught the attention of many and naturally caused a stir, once again, by her choice to say no to hair removal. Her now famous unibrow struck a chord and gave her the opportunity to reiterate what she thinks about it.
Advertisement
"People now know me as I am,' she said, 'I have always wanted to be myself and do what I like. I am stubborn and rebellious, but I think this has helped me to achieve my goals. I have always stood out from others and even at school I was over the top".
Characteristics that make her unique, that have given her fame, but that are also much criticised.
There are many people who use her appearances, her statements and the way she is to attack her. She is often told to shave her eyebrows in order to look more graceful, but she is not willing to do so and showing up dressed eccentrically on the red carpet at Cannes, with her eyelash band clearly visible and flaunting her usual confidence, was nothing more than a way of affirming this once again.
What do you think of her appearance and her message about self-acceptance?
Advertisement