At 67, this woman still works as a model: "They told me I couldn't do it, but I proved them wrong"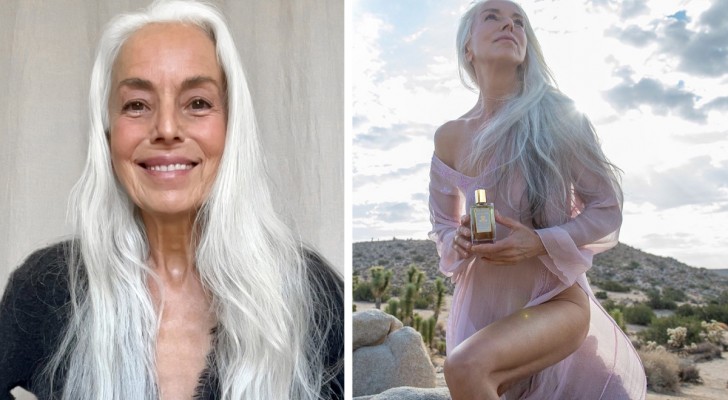 Advertisement
Beauty standards constantly change, but recently, there are more and more people - especially women - who, regardless of current fashion norms or society's prejudices, embrace their flaws and their signs of aging with dignity.
A great example of this is Yazemeenah Rossi, a vibrant 67-year-old model of French origin who is still able to steal the show on every catwalk. Besides being a charming professional model, Yazemeenah is also an exemplary grandmother.
via Rpp
Advertisement
Yazemeenah began her career in the fashion world at the age of 30, when everyone already judged her "too old". But luckily, she never gave any weight to these criticisms and she soon became a successful model - not only due to her physical beauty, but also her charm and charisma. She has modelled for famous, international brands such as Saint Laurent, Thierry Mugler and Christian Lacroix.
At age 67, Yazemeenah still manages to mesmerize audiences as she models with her long silver hair. But what is her secret to maintaining such a youthful appearance? "To be free from stress and worries," Yazemeenah stated. "For me, age is an attitude. If you get in touch with your inner child and keep being curious about life, you will automatically gain new energy," she added.
Advertisement
When asked if she has ever had any cosmetic surgery - or would consider it, Yazemeenah replied: "I have never undergone any kind of aesthetic operation. I feel beautiful and confident inside so I don't see the need for any surgery."
Yazemeenah is reluctant to provide a "recipe for staying beautiful," as she believes this is highly subjective. Her best "advice" is "to eat healthily, stay in touch with nature and sleep properly. My goal is to inspire other women and men to be themselves, which is wonderful for me. It's the best part of modeling," she said.
More and more often we hear that women should "dress their age" and once they become grandmothers, they should step back from the limelight. But for this model, that's not an option. What do you say?
Advertisement