After having 14 sons, this couple welcomed their first daughter into their home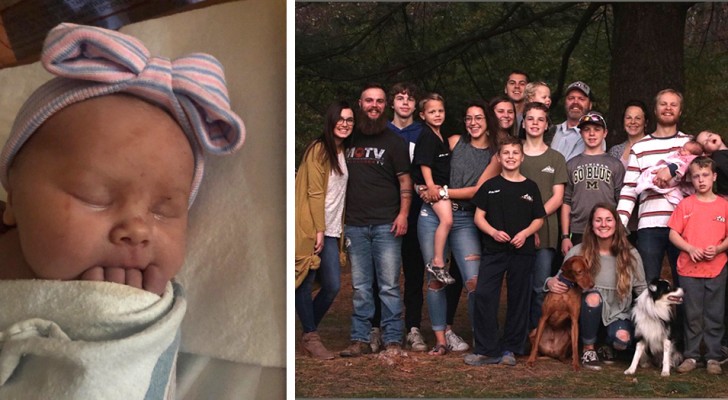 There are couples who, unfortunately, are unable to have children naturally and who are forced to resort to artificial and expensive treatments in order to fulfill their dreams of parenthood. Other couples, on the other hand, seem blessed and cannot stop expanding their family. In this category are Kateri and Jay Schwandt, both 45 and parents of 14 children. Theirs is undoubtedly a lifestyle choice, confirmed by the arrival of the long-awaited daughter in the family: Maggie Jayne. The peculiarity of this wonderful, large family, is the fact that Maggie Jayne has 14 brothers.
via The Guardian
Advertisement
Kateri and Jay Schwandt have had 14 sons but never gave up on ​​having a daughter as well. In order, the men of the family are: Tyler, Zach, Drew, Brandon, Tommy, Vinny, Calvan, Gabe, Wesley, Charlie, Luke, Tucker, Francisco and Finley. To add to this long list of names, now there is also little Maggie Jayne, already loved by everyone. Some of her brothers are now adults and live with their wives, but the house is still full of boys who will have to learn new habits to make coexistence with their little sister work.
The eldest of the siblings, Tyler, who is 28 and married, commented on the good news: "My parents have finally been blessed with the baby they never thought they would have. It's been about 12 hours since my father told us, and I haven't gotten used to it yet. I don't even know if my mother has any pink dresses for Maggie Jayne. "
Father Jay, who finally has a daughter, is ecstatic and commented on Maggie's arrival: "We are delighted and extremely excited to add Maggie Jayne to our family," he said immediately after his wife gave birth at Mercy Health Saint Mary's Hospital in Grand Rapids. "This year has been memorable in so many ways, for so many reasons, but Maggie is the greatest gift we could ever have imagined," he added.
Jay and Kateri were high school sweethearts and before getting married in 1993, they had already had three children. Their love story has lasted over the years, unlike many others, overcoming all obstacles. Today they are a large and united family - and this is the most important thing!