After having 10 sons, this couple finally manages to give birth to a beautiful daughter: "we were speechless"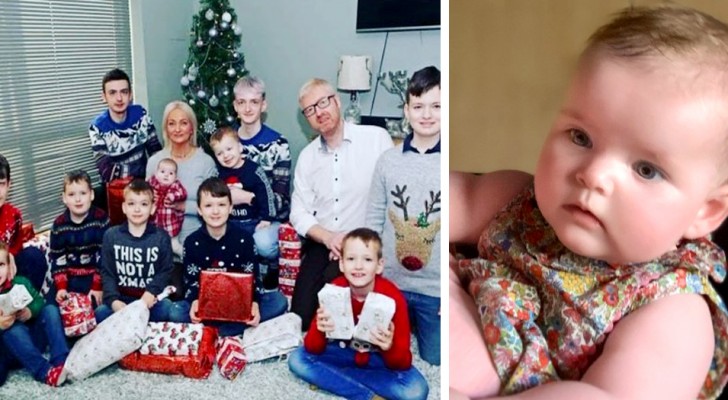 Advertisement
Many strongly desire the birth of a child. Most times one is not concerned about the sex of an unborn child, only that he or she will be healthy and that they grow up healthy and strong. After all, children are a blessing and it's pointless fretting about what sex they will be.
A Scottish mother knows something about this. She has given birth to ten sons and only on her eleventh delivery did she have the joy of being able to hang up a pink bow. Here is the history of this large family:
via Huffington Post
Advertisement
Originally from Aberdeen, a lovely town in Scotland, the Brett family has become famous on the web for establishing a record never before achieved in the country: the couple has given birth to ten sons, one after another. This record made them famous as a "unique" family. But, despite the popularity and the stories that 39-year-old mom Alexis published on to social media every day, this wasn't enough for them and they decided to have an eleventh child.
"I was convinced that this baby would be male too," said the woman. She continued: "When they told me that she was a girl, we were speechless, but, of course, we were delighted". So, the little girl was welcomed by mom Alexis and dad David, aged 44. Their first reaction was of amazement, of course - anyone would have reacted in this way - and then came the joy, happiness and the satisfaction of being able welcome their daughter, Cameron, into the world.
Advertisement
"Our little girl has ten brothers aged between 2 and 17 years old," said the father. He continued: "Everyone is competing to be close to her, they want to hold her in their arms, feed her and ensure that no one makes any noise while she sleeps so as not to disturb her." Small and big men are taking care of the latest arrival in the family, and lthey ove her to death.
But was having so many children a repeated attempt by this couple to have a daughter? This is a question that many have asked these two parents and to which they have answered with a categorical denial. Having a baby girl was not their primary goal and each child has been an immense source of happiness for the couple. Of course, now they are more determined than ever to stop having kids and, apparently, Cameron is going to remain the youngest in the Brett household.
This is a decision that Alexis and David have now taken because of the amount of work that must be done every day at home to support such a large family. "We have twelve children in the house, but we also love a neat home. So, we clean, cook, wash and every week we do about 50 laundry loads". The wonderful thing is these two parents have stated that they are not overwhelmed by the daily chores they have to do. They just need to see the happiness in the eyes of their children to feel rewarded for all the efforts they make.
We wish this wonderful family a great, wonderful future.
Advertisement