At just 9 years old, this little girl designs and sews wonderful dresses: her works are popular on the web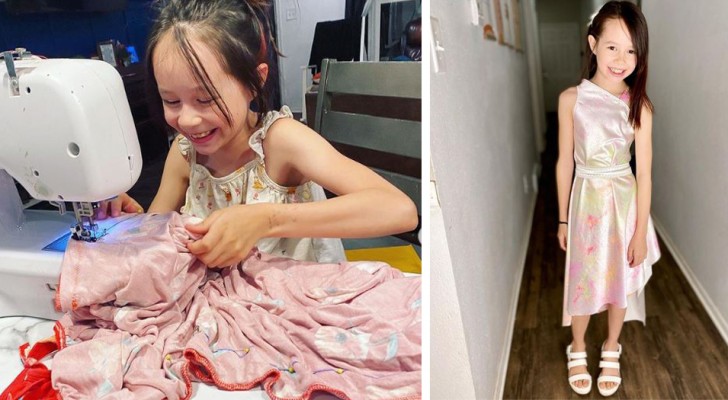 Advertisement
It is common for children to fantasize about what they want to do when they grow up: there are those who want to be a doctor, a footballer, a dancer, a model and so on. Then they grow up, get to know more about life and change their minds. Sometimes, however, the love for a certain activity remains and from an early age, a child discovers their real talents.
This is what happened to a 9-year-old girl from Colorado, who is making her dream a reality. Little Kaia Aragon loves fashion and has already become a young seamstress.
via Metro
Advertisement
Kaia said she was always attracted to particular clothes, even before designing them for herself: "Whenever I could dress up, I always chose clothes that stood out or left their mark". Her mother, Tonya, said she taught little Kaia how to use the sewing machine and documented her passion in some videos posted to social media. After making and sharing her first dress on the web - a black T-shirt with an orange fox print that got over 1.2 million views - Kaia has continued to become more innovative with her designs.
"Her abilities and her ideas are rapidly outstripping what I am capable of," said Tonya, adding that she now takes numerous courses on YouTube to learn skills and techniques that can help Kaia to grow. "Most of the time, I just start with drawing a design. All the fabrics I choose are soft and stretchy. If there is a fabric that looks good to me but isn't comfortable, I don't use it. I just rely on the feel and then the 'appearance,'" explained Kaia, noting that she puts the fabric directly onto a mannequin rather than drawing the design first.
In just a few weeks, the young designer amassed over 600,000 fans on her TikTok account, run by her mother. But there's more: a few weeks ago she also caught Vera Wang's attention. This famous designer, whom Kaia said she had never heard of, sent her a package containing a sewing machine, a backpack and a handwritten note. According to a posted video, Wang's note read: "Dearest Kaia, I am so happy to see that you are already pursuing your dream of becoming a seamstress! Congratulations and good luck. Love Vera."
In addition to creating garments from scratch, Kaia enjoys recycling existing clothes into completely new designs. Her talent can already be considered a professional: more and more people are offering to pay for her designs, but her mother is reluctant to accept payment: "Designing clothes makes Kaia happy: fulfilling orders would make it a job, too much responsibility for such a small girl. It's best to nurture her talent and her innocence. There will be time for a career later," she explained.
We wish Kaia good luck for her future, which we hope will be in the world of high fashion.