Woman gives birth during a flight to Hawaii: "I didn't know I was pregnant"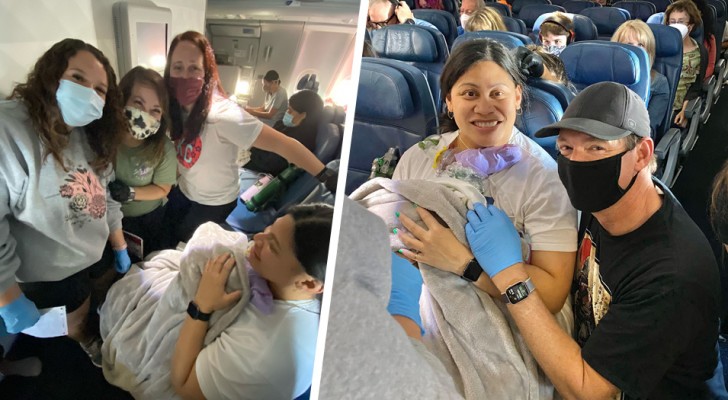 Advertisement
Life constantly confronts us with an endless series of unexpected events, but sometimes these events are so extraordinary that they are truly unforgettable. The story we are about to tell has as its subject an "bewildered" mother, a doctor and three nurses on vacation. None of them would have ever expected to have to jump into action, especially at an altitude of 30,000 feet. All of them, in fact, were on board a Delta Airlines airliner from Salt Lake City and bound for Hawaii. In the middle of the flight, Ms. Lavinia "Lavi" Mounga began to feel unwell, so she headed for the toilet.
via People
Advertisement
"I had cramps and went to the bathroom," Mounga revealed, "Then I passed out for a moment." Meanwhile, on the plane were three NICU nurses who were looking forward to their holiday organized in honor of their friend, Mimi Ho, for her 28th birthday. She and her colleagues at the North Kansas City Hospital - Amanda Beeding, 45, and Lani Bamfield, 26 - were on an women-only trip to Hawaii to celebrate the birthday together. Suddenly, they heard someone shout: "Help! We need a doctor!". It was screams from Lavinia's sister-in-law who had seen the young woman collapse and give birth without warning.
With the help of Dr. Dale Glenn, a family doctor from Hawaii Pacific Health who was returning home after visiting his family, the group of nurses leapt into action to assist the woman and little Raymond, who was born at just 29 weeks old. Being premature, he immediately needed all the support possible: to this end, the crew of the plane and the passengers began to work together to make sure everything went well.
"The two biggest enemies of a premature baby are a lack of oxygen and getting cold, because very young children cannot regulate their temperature. So the flight attendants brought us hot water bottles that we used to keep the baby warm ... Every passenger on the flight helped us," said Dr. Glenn.
The team used shoelaces to tie off and cut the umbilical cord. They then made bottle warmers out of microwaved bottles and used an Apple Watch to measure Raymond's heart rate for the remaining three hours of the flight. The weirdest thing in this whole story is that the mother had no idea that she was pregnant: she went through a so-called "cryptic pregnancy", meaning a pregnancy without any symptoms or clues that would lead a woman to think she's expecting a baby.
After the initial shock about how to inform her family and, above all, the child's father of the drama, Lavinia was overcome with joy at the unexpected, but welcome surprise. Even the child's father expressed all his gratitude to the medical team who assisted his girlfriend over the social media. At the end of this emergency and routine visits to check on the health of the mother and the baby, the birthing team has formed a solid friendship. "We've started a group chat. We've already told the mother we're coming to her child's first birthday in Utah," said nurse Mimi Ho.
An incredible story, don't you think?