Mother bathes her 6-year-old daughter in the kitchen sink: the polemic kicks off
Advertisement
Every parent has their own rules and habits at home, according to which they manage their own routine and that of their children. Usually, none of these should be questioned by others, so rules must be respected - that is, unless the parent in question decides to publish their rules on social networks, opening them up to opposing views and negative comments.
This is what happened to the mom we're about to tell you about here. This mother received a lot of criticism for her habits regarding her daughter's bath. Here is the story:
via US Magazine
Advertisement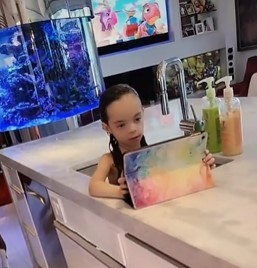 cocoebabychanelnicole/Instagram
Coco Austin is a 43-year-old model who is well-known on the web and has sparked a polemic over a decision she made about her 6-year-old daughter. In a video posted to her Instagram profile, she is shown bathing her daughter in the kitchen sink. Coco said she did this as she did not have the time to draw a proper bath.
She described the incident with these words: "The sink is much more convenient when you are in a hurry. We only had an hour to get ready and figure out what to wear." Apparently, the mother and daughter had to go to a fashion show, so using the sink was the fastest solution. Coco decided the kitchen was the ideal place to bathe her daughter.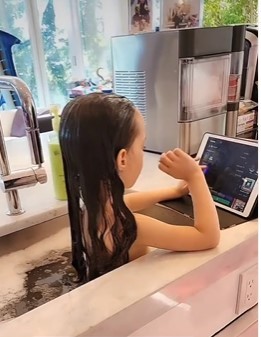 cocoebabychanelnicole/Instagram
The video garnered a large number of views and comments, many of which were critical of the mother. "You go to the bathroom to fix your hair, but you don't have time to bathe your daughter properly?"; "How can you do this - this is the same place where you put your dirty dishes"; "It's not right, she's just a child" - were some of the comments. On the other hand, however, there were those who defended Coco and stated that there are much more important things in life to argue about.
What is your opinion?