Teenager risks being disqualified because of the beads in her hair: her opponents intervene to help her (+ VIDEO)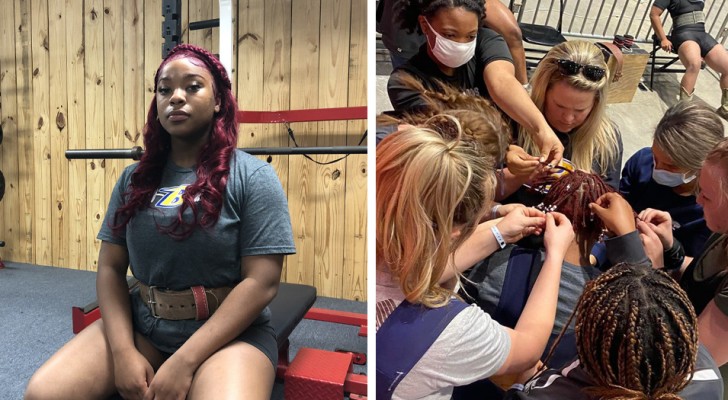 Sports competitions are very important for young athletes: they prepare for weeks with grueling workouts and strict diets in order to push their limits and reach their desired goals. But what if you risk not standing the winners podium - not for lack of skill - but because of your hairstyle? This is what happened to young Diamond Campbell, a weightlifting athlete at Bruce High School in Mississippi, USA, who was almost disqualified from the state championship because of her hairstyle.
via Facebook / Holly Preston Wilkes
Advertisement
"I remember doing the first lift. I looked back to see if it said green or red on the board. If it's green, you know you made it. You can go ahead and do the next lift," 16-year-old Campbell said in a recent interview, recalling the moment she stepped off the platform after completing her first lift. "I looked at the scoreboard and it was red. I was confused," said the young athlete. Soon afterwards, the head judge approached her and said: "You can't wear beads in your hair. You have to take them out. You can't compete wearing them - we will disqualify you."
"I was angry. I felt ashamed, I felt like they were making fun of me," commented the young woman. According to the regulations, lifters are not allowed to wear particular headgear, and this includes accessories such as bandanas, beads and hair clips.
"Clasps and beads, are part of our culture," Campbell added. The young woman had worked hard to get to where she was and she had already lost her first lift, so she was determined not to lose another one. In response, her teammates and her coaches began frantically removing her beads from her hair. Soon after, something amazing happened.
Almost immediately, the girls from the competing schools also rushed in and started helping Campbell remove her beads in time for her next lift. "Before I knew it, I had eight different girls around me helping me to let my hair down," Campbell recalled. "We were just trying to give her the opportunity to compete, because it wasn't fair that she was disqualified for such a thing," said competitor, Jorja Roberson. According to Campbell, having the support of these girls was the motivational boost she needed. Although she had already lost one lift, the teen recorded a personal best in another category and placed fourth in her weight category.
"They could have just left me there to take out my beads by myself and I would have probably missed the next lift. But they put competativeness aside and helped me," she said. The moment was filmed in a video that went viral, attracting the attention of many users who complimented the sportsmanship shown by competitors.