Couple buy an entire village for only €26,000 euros: "And to think we couldn't even afford a flat"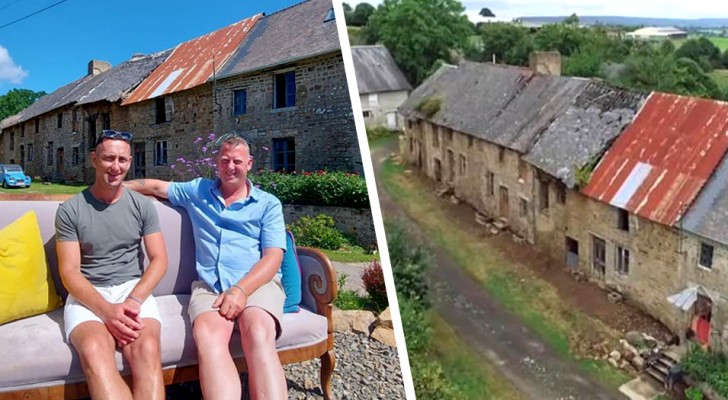 Advertisement
Who amongst us hasn't dreamed, at least once in their life, of having our own home in which to live and relax? Almost everyone has this desire, but it is not always possible. There are, in fact, those who cannot find the right home for themselves and then there are those who, on the contrary, find one, but cannot afford it. This is a situation that two English gardeners found themselves in.
Initially unable to buy even a studio flat in England, this couple even managed to purchase an entire village in Normandy, France, for just a few thousand euros. Don't believe this? Well, it is absolutely true! The couple have done exactly this, and they have big plans for their future. Here is there story:
via Indipendent
Advertisement
Paul Mappley and Yip Ward are a couple from the UK. The two, employed as gardeners, had always found great difficulties in buying a house. "Where we lived before, a small apartment cost over € 300,000 euros," they stated. These prices were too high and well beyond their reach. They were forced to live in a caravan in Tunbridge Wells, Kent, but then something changed. Yip received a call from a friend who offered to sell him his property for only € 12,000 euros. This was an affordable price, so the two did hesitate and accepted the offer, moving to La Buslière, a small village in Normandy, France.
Once they got to Normandy, the couple realized that the deal could become even better. In fact, they found that the entire village was for sale, not only the house they had just bought. So, by adding € 14,000 euros more, they became the owners of the whole village. The village consists of 6 cottages, 2 barns, a stable, a cider press, a well, a workshop and an bakery. Of course, it wasn't easy at first - there wasn't even any electricity, but Paul and Yip settled in and now they really feel at home.
"It was so exciting to know that that the whole village was ours," they said, "we were very lucky." Their plans for the future are really interesting and ambitious: they have decided that, in a few years, they will transform the village into a luxury tourist destination. A wonderful project that, if it succeeds, will more than justify the € 26,000 euros they invested in the purchase of La Buslière village.
We wish this couple the best of luck!