Elderly couple have always lived on an island, but take their first boat ride at the ages of 83 and 90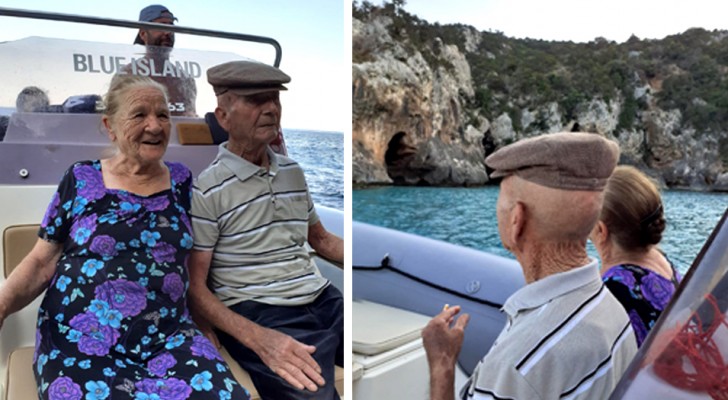 Advertisement
In life you never stop learning and never stop having new experiences. No sentence is as true as the latter and, if you have the strength, the desire and the right spirit, there is no age limit to trying new things and discovering wonderful places. And it is never too late to visit the areas where you have always lived, but which have remained unexplored, even if you are 90 years old and are great grandparents.
The two subjects of this story know this very well and, after almost a century of living on an island, they have finally experienced the joy of taking their first boat ride. Here is their story:
via Ansa
Advertisement
Giuseppe Chessa and Antonietta Cambone are a couple who are 90 and 83 years old respectively and who have lived on an island since they were born (Sardinia). However, the couple had never taken a boat trip to look at beautiful Sardinia from the sea. Fortunately, their grandson's love and the desire to surprise them, gave the two elderly people the opportunity to have a new experience. Giuseppe Chessa junior, the grandson, works for a boat rental company, which has the task of taking the many tourists visiting the island to visit the beautiful and unspoiled places along the coast. Could he also do this for his beloved grandparents? Of course he could - and he did.
"They were not entirely sure about the whole thing, especially my grandmother," said the young man in an interview. "My grandfather was a bit leary too, but in the end he was convinced to go and, after three hours of sailing, he was amazed by the beauty of the places we visited. It wasn't easy to choose the right day and they had to wait for a bit, but when the sea was calm and the weather was perfect, we went out on our trip and their eyes were sparkling. "
For almost a century of living on the island, after their wedding, having 8 children, 12 grandchildren and 5 great-grandchildren, Giuseppe and Antonietta have finally had one of the most beautiful experiences of their life. This news immediately went viral, and photos of the trip went viral on web and made the elderly couple famous.Antonietta could not understand why everyone found out about their boat trip: "I went to the pharmacy and everyone asked me about our day: how did they know?" said the elderly woman. Everyone was aware of the trip because so many had seen the photos of the two of them which were published to social media networks by their nephew.
Advertisement
This was a beautiful adventure that perhaps, at this ripe old age, the couple thought they could no longer do. But this turned out not to be the case and in life, it is never too late to discover new things, visit unexplored places and let yourself go enjoying the beauty of nature.
Do you agree?