Woman buys her wedding dress for under $ 10 dollars: "I still feel like a princess!"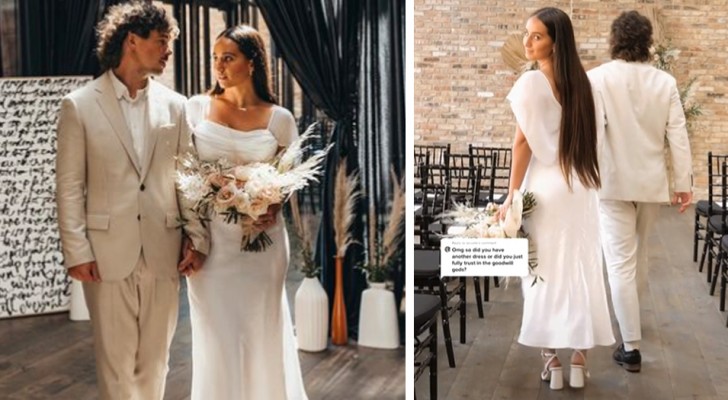 Advertisement
A wedding day is a day that every couple tries to plan down to the smallest detail - an exercise that takes a lot of time and, often, also a considerable budget. The bride's dress is usually one of the very expensive items on the bill for that special day. Everyone wants to feel like princesses on their wedding day, so why skimp on the dress, then? There are those, however, who prefer to spend their money on something else: Rachel Connealy, a young bride, bought two formal dresses for less than $10 dollars! She felt like a princess throughout her wedding ceremony, even though her dress was not from a designer label shop and was dirt cheap.
Advertisement
Is it necessary to spend thousands of dollars to buy a "dream" dress, perhaps one made by an important designer? Of course not, and Rachel Connealy, a 26-year-old woman, who was about to marry her fiancé, has proven this comprehensively. The young woman went to a thrift shop, where she found not one, but two dresses that she could wear on her special day: one was a very simple and elegant, formal dress, and the other was a more casual one to wear during the wedding reception. Total cost? $8 dollars! No wonder videos in which Rachel is showing off her wedding dresses exceeded two million views! Who wouldn't be curious about what kind of dress the young bride could have bought at such a cheap price?
Many followers told her that her long, simple, white, formal wedding dress was very reminiscent of the "Givenchy" dress Meghan Markle wore when she married Prince Harry. Not bad for a dress bought in a thrift store, and for only $ 3 dollars! The other dress, for which she paid only $ 5 dollars, is no less splendid too. In addition to the financial savings made, for Rachel there is also a practical aspect: for her, it makes no sense to spend a lot of money on a dress that she will keep stored in a box for 20 years and that only once she will show to her daughters and grandchildren in the distant future. And after all, the dress is easily in danger of going "out of style" very quickly.
Advertisement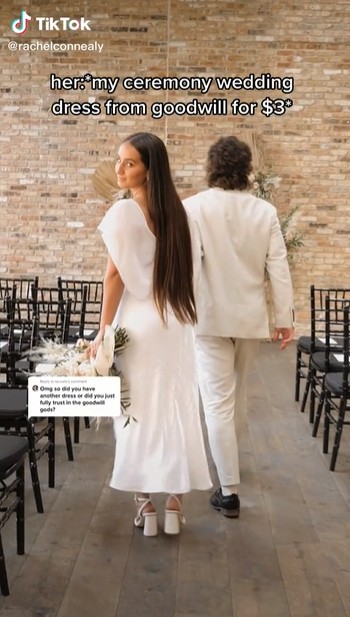 Rachel is not the first bride who has decided to go for a cheap dress solution and has invited other brides to check out the dress section of their hometown thrift stores as well. You never know what can be hidden inside such shops.
What do you think about this? Are you among those people who want a "perfect" and expensive dress, or would you rather save the money by buying a cheap alternative? Let us know in the comments!