Man turns 100 and beats all records with his 84-year-long career at the same company (+ VIDEO)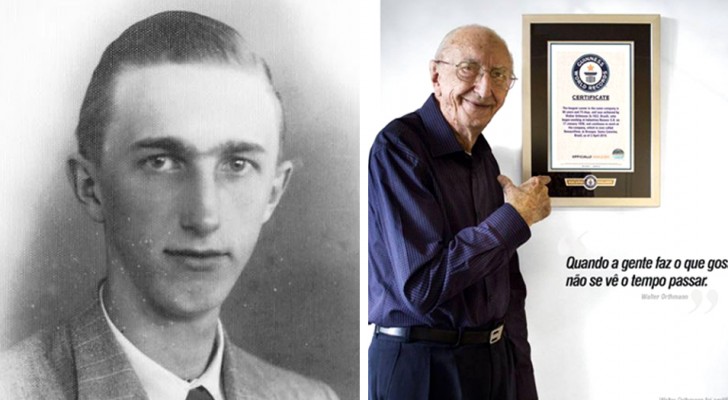 Advertisement
Everyone in life tries to do everything possible to practice the profession they prefer. Whatever it is, when you can pursue the job of your dreams or, one for which you feel most suited, your weariness decreases and the days pass peacefully. A similar thing happened to the extraordinary man we want to tell you about in this story.
Having become known to the general public for setting a world record, Walter Orthmann is the living example of how work can be something extremely pleasant in a person's life. Let's get to know him better:
Advertisement
On 19 April 2022, Walter Orthmann reached a very important milestone: he celebrated his 100th birthday. On such a special day, Walter was surrounded by his loving friends and relatives, but also his work colleagues. Don't worry, you have not misunderstood this statement - we are really talking about his work colleagues. How is it possible that at 100, this man is still working?
It is exactly this peculiarity that has allowed Walter to achieve a world record: he is the holder of this title for being the longest-serving employee within the same company. That's right. Walter Orthmann was born in Brusque, a small town in Santa Catarina, Brazil, and was hired by Industrias Renaux SA when he was only 14 and he never left the company.
In those days it was not so uncommon to start working at a very young age. Many families were not wealthy and needed their children to enter the workforce at an early age in order to sruvive. For this reason, and despite his attendance at school and his excellent performance, this man entered the world of work by taking a job in the textile industry. "In 1938, children had to work to help support the family. Being the eldest son, my mother found me a job at the age of 14," said Walter in one of his countless interviews.
Advertisement
Since he was very good at German, Walter was hired immediately and began to fill the role of an export assistant. But his skills and his willpower prompted him to make a career change and shortly thereafter, he became a sales manager.
He said about himself: "I had the opportunity to work as a salesman. I went to Sao Paulo, and in less than a week, I filled the production line with orders equivalent to three months work." This rosy career has contributed to the mental and physical well-being of this man, giving him the motivation to reach the milestone of his 100 years of productive life.
2022 saw not only this celebration, but also 84 years of working for the same company. He never changed jobs, he always remained faithful to them, he made a career and was a happy man for all that fate had in store for him. Walter stated: "When you do a job you like, you don't feel the passage of time. I live like this: I think about today, never about tomorrow. What I do every day is to get up, catch the train and go to work. Thinking too much about the past or planning too much for the future doesn't help - what really matters is the here and now ".
And, apparently, this is the secret to staying lucid, vital and active just like him, despite the fact that it has been quite a few years since his birthday. Not to mention that he also managed to set an unexpected record, as he himself confessed. Despite this, it was a great honor for him to receive the award and gave him a wonderful feeling.
We hope that the energy that we see in his face in these photos can continue to be with him for a long time to come. In the meantime, we cannot help but admire this tenacious man and we will try to treasure the advice he give us about how to live a long, happy, productive life.
Advertisement