English couple celebrate their 81st wedding anniversary: he is 102 and she is 100
Advertisement
Does true love really exist - a love that lasts forever? Apparently, the answer is "yes" and it is certainly not made up of just roses, chocolates or exhilarating moments. Being together and loving each other for a lifetime also means being close to each other in times of need and during the most difficult periods of our lives. Ron and Joyce have achieved this and in January 2022, they celebrated their 81st wedding anniversary. This is a record that crowns them as the longest-lived married couple in the UK! Not everyone will reach their age - Ron is 102 and Joyce is 100 - a major milestone. This incredible record was also noted "by the higher circles of society", and the Queen sent a letter to the couple with her warmest wishes and congratulations.
via BBC
Advertisement
These days something like this may seem like an unattainable goal, but hope springs eternal. Ron and Joyce got married in 1941, in the middle of World War II, when Ron was 21 and Joyce was only 19. Their marriage was the result of "love at first sight". Ron actively participated in the war and today he considers himself a lucky survivor of that era: "Sometimes life was tough but we worked on it together. We take care of each other too," said the elderly husband. Together, they had two children, Bill and Eileen.
To be honest, they weren't even expecting to reach such a significant milestone together: "We know we're very lucky," Joyce said, adding that in their relationship "neither of us is the 'boss'". Yet, when they got married at the time, no one would ever bet on the length of their relationship. Ron and Joyce, however, proved that love conquers all.
Advertisement
Queen Elizabeth II had sent them a letter on their previous anniversary, their eightieth, congratulating them on the beautiful and wonderful milestone: "How wonderful to hear of your 80th wedding anniversary on January 4, 2021. I hope you are enjoying this wonderful occasion", the royal letter stated.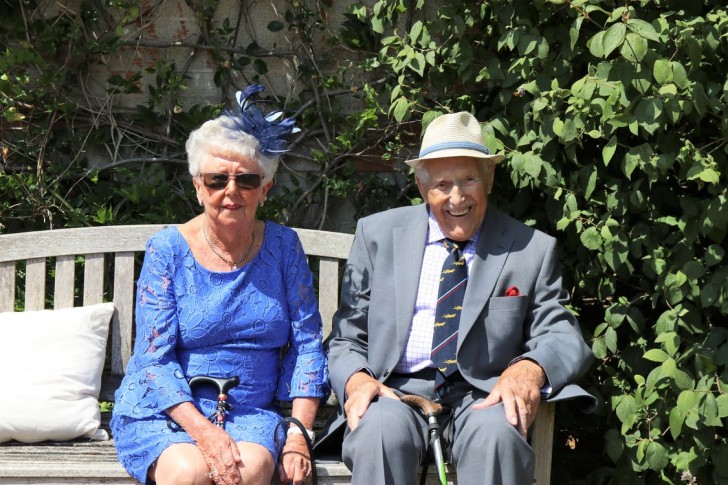 How many of you are hoping to break this couple's record?
Advertisement