He dresses up in different costumes every day to welcome his little brother back from school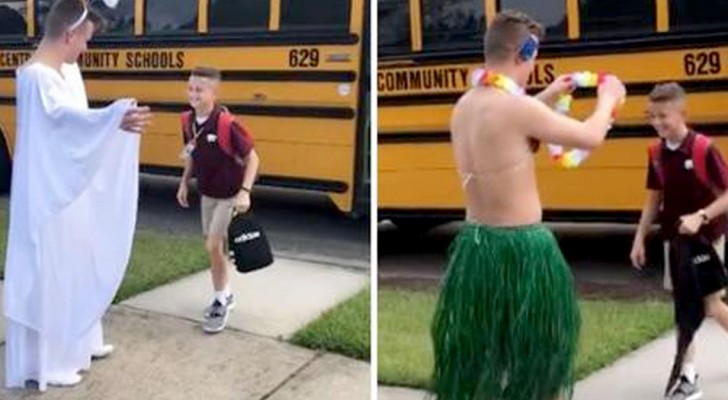 Between brothers there is an unbreakable bond that can last forever - it's a love that manages to overcome every obstacle, every mountain that life puts in our paths. There is a lot of talk about what exactly brotherly love is, but it is easier to explain with gestures and deeds than with words. And this is exactly what this boy did for his younger brother: every day he greets the return of his younger brother from school wearing a completely different costume ...
Advertisement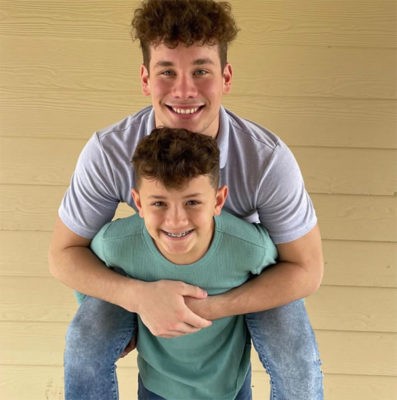 Noah Tingle is a boy who lives with his family in the town of Central in the USA, and has become a phenomenon on the web since he started the The Bus Brother page on Instagram. Here, he talks about his daily pranks with his little brother Max. Noah pranks his younger brother daily for two main reasons: firstly, it's fun to tease and affectionately embarrass the younger boy; secondly, he wants to make amusing and precious memories of his brother before he leaves for college. In short, Noah wants to spend as much time as possible with his little brother before going to college because he knows that he won't see him as often any more...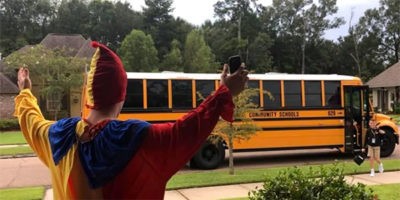 Initially, Noah put on anything he could find in the drawers of his father's and mother's bedroom. It didn't matter whether the clothes were for males or females - Noah was prepared to wear them and to wait for his brother, Max, to come back from school on the traditional yellow school bus. Every day Noah greeted Max at the bus stop wearing a different "costume". Over time, Noah decided that he would improve his creative and entertaining pranks by creating DIY costumes at home or by ordering them over the internet. The result was obviously hilarious every single time!
Advertisement
As you can see from the videos posted on Instagram and below, every day Max is welcomed by his big brother Noah in a different costume: for example, as a bear, a football player, a firefighter, as Santa Claus, or as a giant piece of bacon - all aimed at entertaining and affectionately embarrassing his younger brother. Max initially stated that the Noah's pranks did embarrass him in front of his friends, but then he realized why his big brother was doing all this - he just wanted to spend time with him before he had to leave for college.
Check out the fun "welcome back from school" videos below:
What a funny and loving big brother he is, don't you think?