Family man publishes a photo of his home under construction to Twitter and users help raise funds for him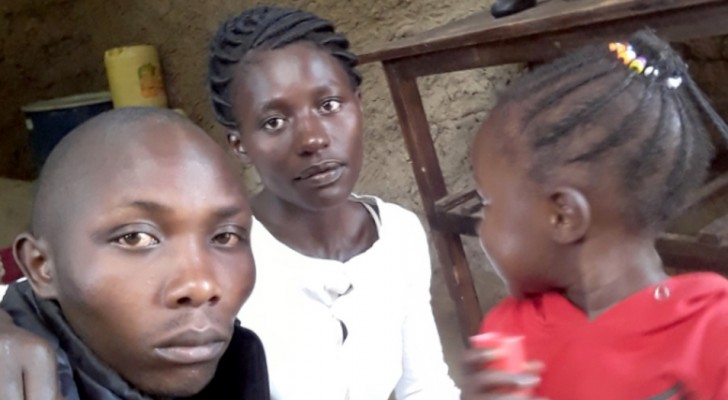 Advertisement
When the holidays arrive, families gather in their homes to pass time together, to celebrate the time of relaxation and to spend a special, carefree day. Usually, it's days like these that make spending quality time with family and close relatives worthwhile and special. Henry Malumu, from Kenya, is someone who also enjoys getting together with his family for holiday events. Henry published a simple picture of his humble family on Twitter and this family portrait has touched the hearts of many Twitter users. And, as they say, a simple picture can say more than a thousand words....
via Tuko
Advertisement
Henry Malumu is a family man who lives in Kakamega County, Kenya. He has always lived a humble and sober life with his family, having very little money, no assets to speak of and has had to make many sacrifices. This is why he decided to spend Christmas with his whole family at his new house which was still under construction. And for the occasion, he did not fail to take a selfie with his family and to publish it to Twitter with the simple caption: "My family and I wish you all a Merry Christmas - God bless all families everywhere!"
Advertisement
This was a really simple message, without any ulterior motives and which did not go unnoticed by many of the Twitter users who noticed the details in the background of the photograph. Behind the smiling faces of Henry's family, there were the bare walls of a house still under construction. With a lot of effort, a lot of sacrifices and an enormous effort, the incomplete house will soon become a completed home for the Malumu family forever.
This was a very moving family portrait that many Twitter users have taken note of. And knowing that that man lives in poverty, and that he is certainly making great sacrifices to be able to finish his home, they decided to make a small collection and give the Malumu family some Christmas joy. Thanks to some of these generous users, they collected $170 dollars and donated the sum to Henry Malumu. With this donation, the family can at least afford a New Year's Eve dinner with all the trimmings, and without having to worry about how to pay for it.
This was a truly unexpected gesture that came from the heart and was certainly one that Henry and his family never expected to receive. There is still a long way to go for the Malumu home to be completed, but certainly such a generous and surprising act of kindness gives them the motivation to move forward and look to the future with great optimism and bigger smiles on their faces.
What a wonderful story!
Advertisement