An old woman abandoned by everyone receives a visit from some policemen who have dinner with her and cut her hair
When a police patrol from IJsselmonde, in the Rotterdam district, noticed that an old lady was always sitting alone looking sadly out the window, they decided to visit her to find out more about her life. The agents found that the conditions in which the elderly lady was living were not the best: she was a 95-year-old woman with severe hearing problems, alone and abandoned with no friends or family to take care of her; she ate little or nothing and this made her very thin, almost skin and bones. The cops were surprised that she was still alive.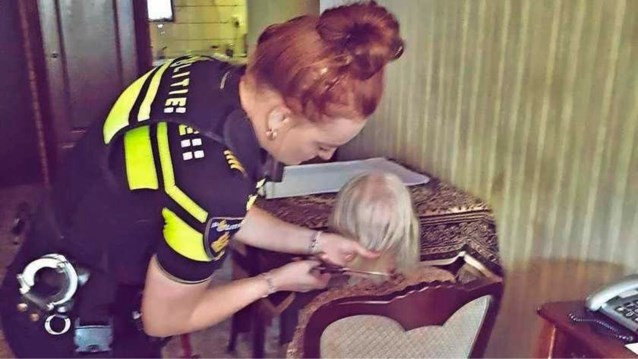 The woman was no longer able to take care of herself and her psychological condition was worrying, because she was overwhelmed by loneliness. Probably, in the long run, the situation would degenerate to a point of no return. Once they understood the gravity of the situation, the officers decided that they would undertake finding her a nursing home that would host her, offering her everything she needed and allowing her spend her days in company, forever saying goodbye to the solitude she endured.
The 95-year-old, who had not received a visit for far too long, appeared very moved by the interest the officers paid in her and she greatly appreciated their company, chatting serenely without any fear, as if she were in the company of old friends. Given that it was dinner time and given her evidently too emaciated appearance, the officers asked the old lady if she wanted to have dinner with them; her answer was yes and the police officers offered her some french fries, which she ate with relish as if she hadn't been well fed for years.
This was not the only visit from the police officers, who decided to return to her a second time a few days later. The old lady told them that it had been too many years since she last set foot in a hairdresser's salon and that that same morning, as she had done in previous years, she tried to cut her hair herself, but without. success. The policewoman then decided to satisfy her wish; she took up some scissors and gave her a little moment of beauty by cutting her hair.
These police officers shared their tender gesture on their Facebook page, receiving thousands of positive comments and proposals for help for the elderly lady. The purpose of their sharing on the famous social network was to raise awareness among the people of the web about a reality which is unfortunately very common in the Netherlands, that of the abandonment of the elderly: "There are many elderly people alone in the Netherlands. We hope that anyone reading this post may want to take care of an elderly person left alone, even if only with a chat."
The community welcomed the officers' request for help, and local people immediately mobilized to find a safe place to live for the 95-year-old woman who now, finally, feels much less alone.