A maid bursts into tears when she finds out that she has been given a penthouse in the condominium where she's worked for 20 years
When we carry out our work with passion and dedication to the point of making huge sacrifices to make ends meet and bring home some coins to set aside, we must never be ashamed of the profession we carry out, even if it's humble compared to others. It doesn't matter if you are a cleaning lady or a waitress, your job has a special dignity, and you are no less valuable than anyone else. Sometimes people distinguish others by the work they do and the social position in which they find themselves, while others recognize the value of sacrifice and reward those who commit themselves.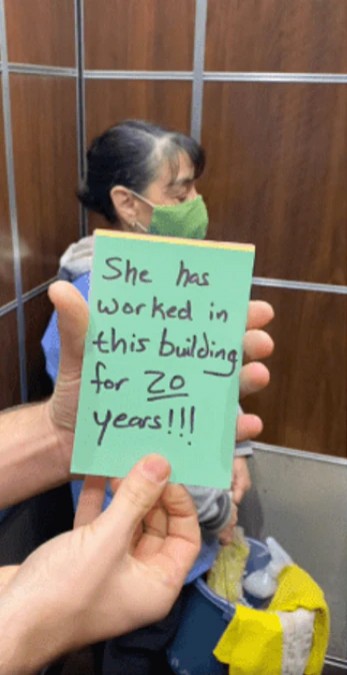 This is the story of Rosa, a cleaning lady who for twenty years worked in a large luxury condominium in the center of the New York metropolis; the arrival of the Coronavirus pandemic, the consequent lockdown and all restrictions have however negatively affected the woman's earnings; all of a sudden, after 20 years, Rosa she would no longer be working in the condominium where she was now known by everyone and much loved and appreciated.
The tenants knew very well how much Rosa was worth in her job, they knew perfectly well all the economic difficulties she was facing, the fact that she had moved in with her sister to have a safe roof under which to live without the income that previously allowed her to pay her rent. For this reason, a wealthy family who lived in that New York condo decided they would give the woman a surprise she would never forget.
Unaware of what she would soon discover, the cleaning lady was filmed without her knowledge as she was escorted to a large penthouse in the upper floors of the condominium; Rosa thought that this was going to be an apartment that she would have to clean from top to bottom, and instead that spacious house was meant for her, in warm thanks for all she had done for the condo residents in over 20 years of work and sacrifice.
The images of the surprise reserved for Rosa, published on Reddit, were described by the authors of this extraordinary gift with these words: "Rosa is part of the family in this luxury skyscraper in New York. Due to COVID, she was fired. However, she still came to work every single day with a huge smile on her face. This penthouse has just been finished in a complete renovation. Rosa thinks she is here to clean it first but she doesn't know it's meant for her. It's a four bedroom apartment with three bathrooms. New parquet floors, with two outdoor spaces, full kitchen, for a total of 2500 square meters."
When Rosa discovers that the penthouse is actually reserved exclusively for her and that she will no longer have to live in the same house as her sister, she obviously couldn't help but burst into tears: for her to get a two-year lease in the same condominium in which she worked for over 20 years was a dream come true!
The generous and unexpected gesture by this family truly demonstrates more than a thousand words how honest work, done well with passion, precision and discretion, is always rewarded sooner or later with unexpected gifts!