She dresses up as a janitor on graduation day to pay homage to her mother's work
A parent would make any sacrifice to ensure that their children have the right emotional and economic stability that we all seek in life. There are many people who have not experienced the best childhood in the world and who, once they become adults, try to direct their children towards paths that they themselves could not have taken as young people due, for example, to poverty. Roberta Mascena, the 25-year-old daughter of an honest and hardworking family, managed to graduate thanks also to the efforts of her parents, who allowed her to study. Unfortunately, education has a cost, and when you are in extreme poverty, you tend to give up certain "dreams". Roberta's mother, in fact, had to leave school at the age of 13 to start working.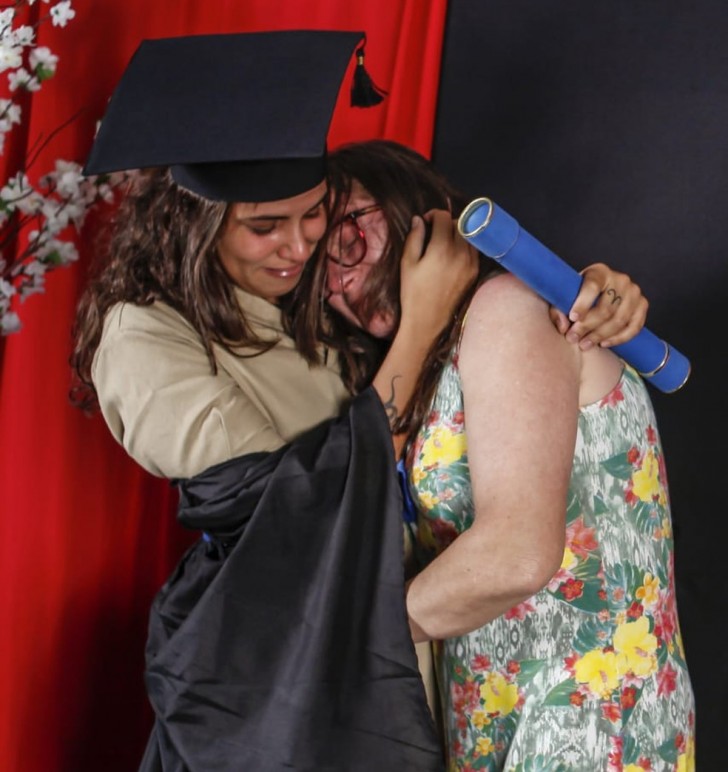 For Roberta, there is no other person who inspires her more in life than her mother. The young woman, who finally graduated to great joy from her family, wanted to pay homage to her polar star, her mother, on the very day she received her degree. Roberta, that day, wore the gown that every student prepares to wear on that special day, but she had reserved a beautiful surprise for her father and, above all, for her mother. When everyone went out to take pictures of the beautiful moment, full of happiness, Roberta opened her gown, revealing a cleaning uniform, just like her mother's.
Roberta's mom, Marlene Cordeiro de Oliveira, didn't have an easy life and was even more proud to see her daughter pass such an important milestone. Over the years, the woman has held roles in various jobs, from cleaner, to caregiver for the elderly, until she became the cleaning manager of a building. It was only after providing for her children's needs that Marlene was able to resume the studies she had to give up when she was just a little girl.
It is for all these reasons that Roberta could not help but pay homage to her parents (her father is a taxi driver), honest workers of humble origins. On the day of graduation she made a big surprise for her mother: "When we went to take the picture, I opened the gown and she saw the clothes I was wearing. She started to cry and hugged me. She didn't say anything, because I don't think there are words that can express the kind of feeling she had at that moment ", said Roberta.
A truly emotional scene!