A single man adopts a "troubled" boy and manages to change his life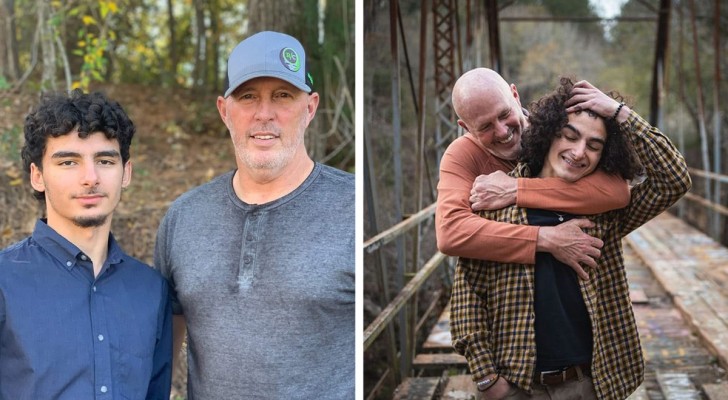 Advertisement
Being a parent is a wonderful experience but it can also be challenging. Perhaps one of the most critical periods that a parent faces as a guardian is when their child enters adolescence: hormonal changes cause sudden changes in mood, and a desire for independence can lead to major conflict.
This story is about a teenager, who, in addition to being subject to challenges of entering adolescence, had various problems concerning trust and abandonment.
Advertisement
Dakota, is a 15-year-old boy and was not lucky enough to grow up with his biological family: he lived with three different foster families over the years. Following these unhappy experiences, Dakota was disillusioned and bitter, distrustful of others - and he had good reason to be so.
However, Dakota's life changed when he met Stacy Barr, a single man who always wanted to raise a child. Stacy always felt that he had a lot to offer a child and was determined to become a foster-father. But he certainly didn't expect to meet a boy like Dakota.
Dakota entered Stacy's life cautiously and the two gradually began to get to know each other. Their bond strengthened day after day and exactly 1,740 later, the two became a family: Stacy not only managed to get custody of Dakota, but he was able to adopt him! Finally, Dakota had found a family. Stacy has proved to be a truly exemplary father for Dakota, who is now called Dakota Graham-Barr, and wants for nothing.
When one of Dakota's ex-foster parents passed away, Stacy was there to support his adoptive son through his grief.
Advertisement
"Today I'm a different man. A better man. I couldn't be more proud to call Dakota my son and to hear him call me dad. I want to thank everyone who rooted for us, who prayed for us," said Stacy. Fortunately, this moving story had a happy ending. But we need to reflect on the fact that being "passed around" foster homes like he was, probably did not help Dakota in his emotional development. Constancy and consistency are key to a child's psychological healt and well-being. What do you think about this story?