He worked as a janitor for 23 years, now he's graduated with honors to become a teacher
From rags to riches. A saying that certainly should not be taken absolutely literally but which perfectly represents how much a person's destiny is not necessarily written in stone but which can always be changed for the better thanks to patience, perseverance, passion and strength of will that we all have within us. Only thanks to our strengths and abilities are we able to take control of our life and change it definitively for the better ...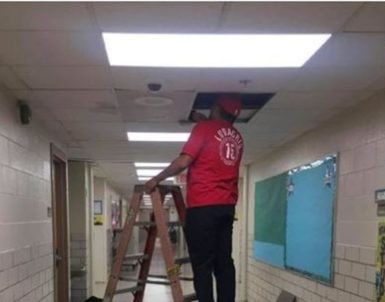 Today we want to tell you the story of a man who for 23 years of his life diligently carried out his job as a janitor at the Hightower Elementary School in DeKalb, in the state of Georgia; his name is Tylan Bailey and he is a school staff member who is truly loved by everyone, both young pupils and school leaders, as well as his peers. However, Tylan has never hidden the fact that the job of a janitor, despite having given him great satisfaction over the years, had lost it's shine lately: "In this school where I work, everything you hear in the air is the education, education, so I finally decided to try to be part of it too."
Tylan Bailey enrolled at Georgia State University in 2017 while working part-time from morning to afternoon as a primary school janitor and caretaker; all he wanted was to try to become a passionate teacher, just like the ones he saw inside the classrooms he had cleaned every day for the past 23 years ...
After four years of intense study, Tylan Bailey has finally managed to graduate with honors from Georgia State University: now he will be able to take some job interviews and to start a brilliant teaching career!
Obviously, the whole of Hightower Elementary School is very fond of Tylan's presence in the school, no one is really ready to say goodbye to him as a janitor and head caretaker but at the same time students and teachers know that this is the path he has always wanted to take, and that's why they all wished him a huge amount of good luck: "He's the kind of person you want in your school, on your side. It's a bittersweet time for all of us because we love him and want him to stay here. But we know this is a huge step and we support him. We're here for him for whatever he needs!" said Sheila Price, the principal of the elementary school.
Good luck in your bright new future dear Tylan, you will undoubtedly become a fantastic teacher!