A couple recreate their wedding photos to celebrate their 50th anniversary - they love each other as if it were their first day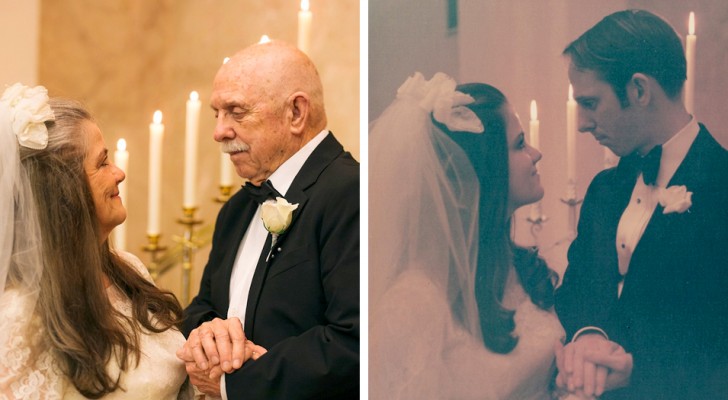 Advertisement
When love is a pure, deep and mutual feeling, it can last forever, never crumble and survive every obstacle that life presents us every day. A feeling so great and rare that it is not too common nowadays to see it in adults; but there are elderly couples who have been married and loved for many, many years, always with the same intensity; when this happens, it's as if a miracle were manifested, a unique magic of its own kind. Meet Kelly and Carolyn Gay, a couple from Des Moines, Iowa who have a lot to teach us about true love ...
via People
Advertisement
Kelly and Carolyn Gay first met in the late 1960s and finally got married on March 12, 1971; that means they have been together for 50 years, they live under the same roof, they have expanded their large family (they have three children and four grandchildren) and they love each other in the same way as if it were their first day.
Advertisement
But life hasn't always been smooth sailing for Kelly and Carolyn: she survived breast cancer and he had to undergo a kidney transplant, which was fortunately donated to him by his eldest son. In short, a life which has certainly not been easy and very tumultuous, which however did not prevent them from wanting to celebrate their fiftieth wedding anniversary in a unique and very moving way ...
Kelly and Carolyn have in fact decided to celebrate this very important milestone with a unique photo shoot; they dusted off their original wedding clothes and literally recreated the photo album from their 1971 wedding: the difference is that 50 years had passed in the meantime!
But Kelly and Carolyn didn't care - this was their unique way of telling everyone that pure love never gets old!
The couple turned to Two Hoyles Photography to bring this tender and emotional photographic reconstruction to life: "People are looking for good news and something to aspire to, and what's better than a happy couple to aspire to, who 50 years after their wedding day lovingly looking like it's their very first day? Hopefully all of this feeling will emerge from the photo shoot," said Sam Hoyle, the 50th anniversary photographer.
And the answer to Sam is that yes, without a doubt these photographs perfectly convey the true meaning of the word love: a very strong and lasting feeling, which the passage of time will never fade; Kelly and Carolyn Gay definitely know something about staying married!
Advertisement