On the edge of reality: 15 examples of eccentric people encountered by chance on public transportation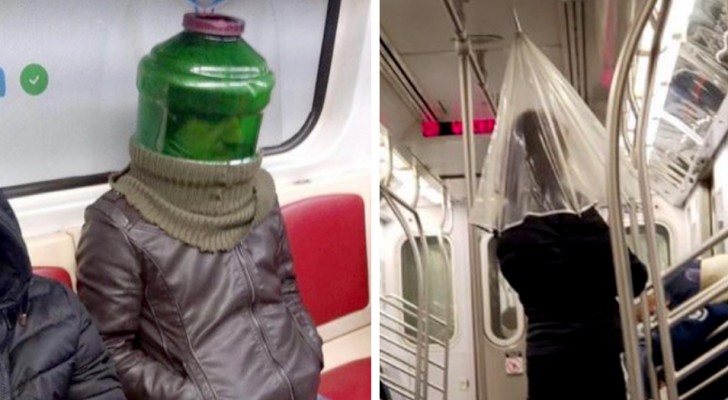 Advertisement
Admit it, it has happened to you at least once in your life That you have met or come into close contact with individuals or people at the limits of the absurd and beyond imagination, maybe dressed in an alternative or eye-catching way on board public transport. If you want to go and browse the web, you will find dozens of groups in which users from all over the world have shared their close experiences "of the third kind" with people who in some way had to be noticed at all costs for their eclecticism, if we want to call it that. We have selected for you the funniest and hilarious snapshots that have ever been immortalized on board a means of transport!
via Subway Creatures
Advertisement
He didn't have a face mask at home, so he worked with the first thing he found...
How we would like to have the courage to leave the house as this man does!
Advertisement
OK, we fully understand the very special times we are experiencing, but we assure you that the dog does not need a surgical mask!
An excess of zeal that could however mean that this owner is really caring towards his dog and wants to protect him from any danger!
This man was undoubtedly having a bad day!
If not ... great breakdance performance!
Ok, we are definitely confused!
We would like to know: is it an ingenious and fun disguise, or is he simply being antisocial ...
We bet he loves popcorn!
Advertisement
We want that Halloween-style bag too!
There is no better way to celebrate Halloween with a fashionable and at the same time ... very recognizable bag: it's impossible for people not to notice it!
Pirates are not what they used to be ....
Advertisement
Ok, in this case we are a bit confused: in your opinion, what means of transport is this?
We have not yet formulated a coherent answer, have you?
Are you seeing what we see?
Advertisement
A man who understood perfectly what it means to adapt and stay comfortable!
After seeing him sitting on the subway, I've been having nightmares for months!
People traumatized by clowns when they were little ...please look away now!
Advertisement
Are you protecting yourself from the rain or are you just protecting yourself from other people?
Whatever the answer: well done!
Ready to go on a hypergalactic journey?
Advertisement
What a style! And we are certainly not referring to the dog's owner ....
Ok, we get the hint, we won't disturb you!
Strange aren't they? If you want to keep smiling or perhaps be a little perplexed by the behavior and appearance of some people on board public transport, we highly recommend you take a trip to the Instagram Subway Creatures channel, which collects with great humor the photographic shots from thousands of web users who have had close encounters of the weird kind people ... on the edge of reality!
There is something for everyone, isn't there?
Advertisement