This poor cat was encased in matted hair: the volunteers freed him of the burden
Nobody can escape forever the universal curse of the bad hair day, not even our four-legged friends. Today we want to tell you the story of a kitten named Hidey, who was found with about an extra two pounds of shaggy fur on his back; that cat absolutely needed to be shaved and have a makeover worthy of the best hairdresser in the world. The transformation this cute cat has undergone is truly impressive!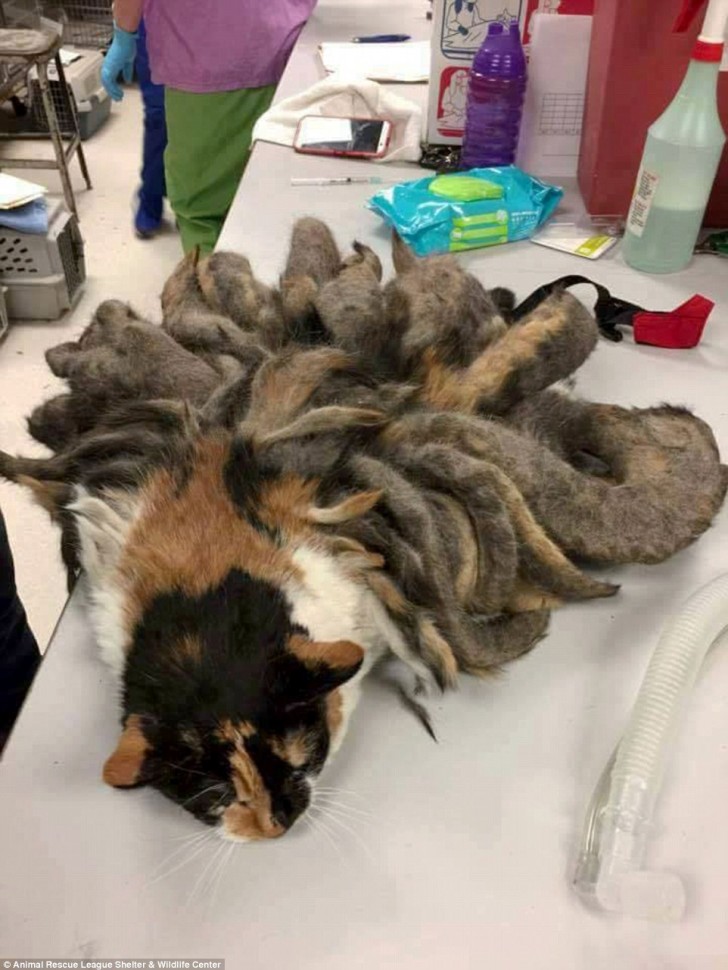 Hidey had suddenly found his hairstyle getting out of control when his favorite human was permanently admitted to a nursing home after developing Alzheimer's disease; both Hidey and the second cat, Siam, were left completely alone, with no one to look after them. For this reason Paul Russell, a distant relative of the former owner, had gone to the house to see how the cats were doing; it was precisely at that moment that Paul realized that Hidey had a big problem...
The cat seemed to be dragging an enormous woven blanket on his shoulders, but it was nothing other than his overgrown coat, which absolutely had to be shaved. Paul then decided to take Hidey to a veterinary clinic to eliminate all that extra weight: the doctors were amazed, they had never seen anything like it, it seemed that his fur had grown into dreadlocks on the cat's body.
Eventually, the vets revealed to Paul that if they removed all that hair, Hidey would weigh about 2lb less!
The doctors could not understand how it was possible that the cat had gotten to that point, but it seems that his excess weight and the fact that most likely the ex-owner, in recent times, could not brush him or take care of him properly, had caused the problem. Since Hidey was discharged from the veterinary hospital, he has stayed with Paul and his family and is already feeling better after losing his hairy burden!
Now Hidey is a virtually unrecognizable cat, but undoubtedly a much happier and healthier one!