He can't stand having to throw away unsold food every night, so he gives it to the homeless: the company fires him
Doing the right thing, at times, can be very expensive but if you are convinced that you are doing good we believe it is more than necessary to insist on following your heart. Bryan Johnston is a 16-year-old who earns his living as an employee of a well-known American chain that produces donuts; although the boy has always shown that he works well and hard, he was fired for breaking company protocol. Specifically, Bryan was literally tired of having to throw dozens and dozens of donuts in the trash every night, so he thought about organizing gift packages and giving them to the homeless. An action that is more than justified, but which did not please the manager of the company.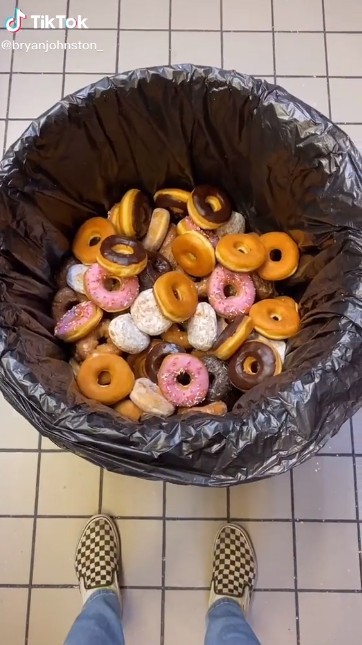 Bryan is a very active poster on TikTok and his dismissal is also partly due to the video he himself posted and which reached 2 million people. In this short excerpt, you can clearly see behind-the-scenes at his work and, in particular, what happens every night: Bryan and his colleagues have to throw away all the unsold donuts. The waste of food is enormous and having to do it every night, with the knowledge that there are people who are dying of hunger on the street, is heartbreaking.
It must be considered that each franchise of the well-known American chain can decide independently whether to donate unsold food at the end of the day and that the company itself has created special collection points for this type of donation.
Yet Bryan, who in the video appears horrified by the waste of food, was still fired from the store where he had worked for months. According to the enterprising young man, some franchises are too "greedy and lazy" to go out and help the homeless or the local community most in need. "They prefer to simply throw their food away at the end of the day instead of paying an employee an extra couple of hours to bring the food to a dedicated collection center. Although it is up to the store owner what they do with the waste, most managers, he says, decide to throw everything away because they have not set up a donation program. It is food waste and the lack of proper procedures in this regard leaves me extremely disappointed "the boy said.
Bryan has received a lot of supportive messages after being fired and even some financial help - to support him until he's hired by another company. For sure, his social commitment will not stop here. Bryan has already stated that he will use TikTok and social media to voice his concerns about relevant issues in our society, such as world hunger.
Eventually, after being fired, Johnston made another video in which he buys donuts from another American chain and donates them to healthcare workers. We hope that this guy finds another job and that his message does not fall on deaf ears: do good, at any cost!