15 children who brought their parents a little unquiet
1. "She crying because I won't buy her this lovely doll movie for Christmas ..."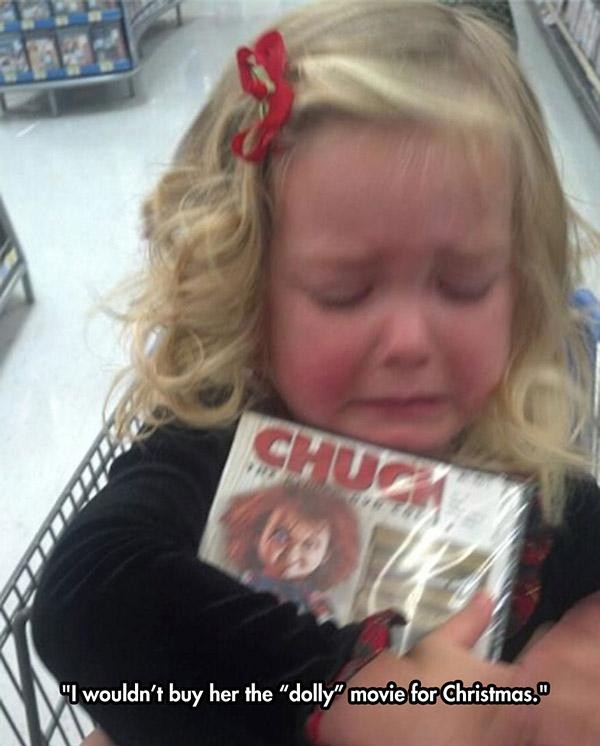 2. When your daughter makes the other kids a little uncomfortable at Halloween ...
3. "I went into her room and found her dolls like this ...."
4. What can have happened here?!
5. "I told my 2 year old daughter she could choose what she liked as a Halloween costume..."
6. "I found him asleep like this, on the LEGO bricks ... when he wakes up he can officially be declared immortal!"
7. A resolute child!
8. I am so grateful that I have Godzilla in my life!
9. "When Darth Vader told him to join the dark side, he leapt at him. I don't know if I need to be worried or not."
10. "Here is my 4 year old daughter hiding from my wife ..."
11. "My almost 3 year old daughter found our Ouija board and is using it to learn the alphabet ... help!"
12. When you go to IKEA and you realize that a curious child has been there before you
13. "Ok and now what do I do ?!"
14. "Mom, I can see the moon!"
15. "I was looking at my daughter's latest drawings and I found this: my mother-in-law passed away recently, so we made a decorative box to hold her ashes. My daughter drew the box in the family tree...."