A 4-year-old boy finds his mom's cell phone and orders $100 worth of food delivery from McDonald's
Everyone likes to order food online and be able to enjoy their favorite dishes delivered directly on the sofa at home. Often, food can become a way to relieve anxiety or depression - it becomes easy, therefore, to pick up the phone and order what you want most at that moment! Ordering from time to time is absolutely not a problem, it's nice not to have to cook and to relax a bit, but if it becomes a constant habit it can be harmful, as well as economically unsustainable! In Brazil, a 4-year-old boy found his mother's cell phone unattended and, thanks to voice commands, was able to order nearly $100 worth of food from McDonald's! Mom, who had slipped into the shower for a few minutes, was shocked when the delivery guy rang her door.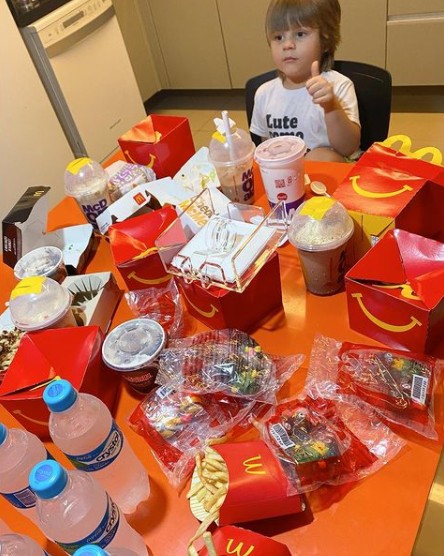 In these uncertain times, when there is a pandemic in progress, a little junk food to comfort the soul doesn't hurt that much! Little Tom, however, must have exaggerated the order when he sneaked onto his mom's cell phone. Raissa Andrade, a 32-year-old mother from Recife, Brazil, had to go to see a doctor and on her return she immediately slipped into the shower, scrupulously respecting anti-Covid regulations. In those few minutes, however, her 4-year-old son must have taken possession of her cell phone. Without his mother noticing, the little one called McDonald's and ordered: 6 Happy Meals, 6 special sandwiches, 10 milkshakes, 8 ice creams, 8 bottles of water and 8 toys on special offer. And even all this was not enough for him: McDonald's had forgotten to bring him a Minion toy and the apple pie he ordered.
Mom gasped in amazement when the delivery guy handed her 10 bags from McDonald's, for a total of nearly $100! Fortunately, however, she didn't get angry with the little boy, but praised his extraordinary intelligence. During lockdown, the Mom had ordered takeout for her and her son several times, and Tom must have mastered his home address that way. All that food, however, was by no means wasted, as Raissa gave some to some relatives who live in the same building.
And you, what food do you use to console yourself these days?