17 photos which show how being a parent is an eventful "job" to say the least
1. Here is a child who, without any qualms, will give dad a surprise when he wakes up ...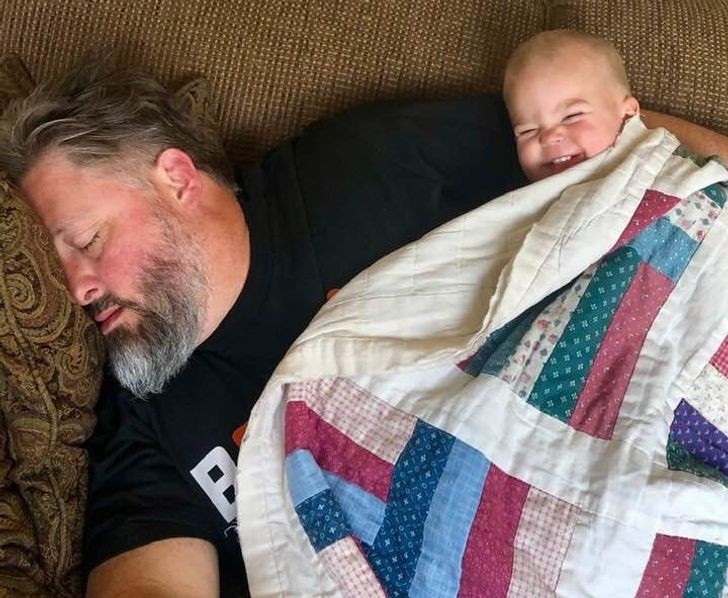 2. Best friends always and forever ... even when getting up to mischief!
3. "My son soaked all the toilet paper we had in the house ..."
4. "Hey Mom! Look how I blocked the toilet!"
5. "My 4-year-old daughter found the scissors and cut her sister's hair. She gave her a Mullet cut. When I asked her why she said she likes Mullets."
6. "My daughter was furious that we wouldn't allow her to put a handful of coins in her mouth."
7. We always try to stop our children from doing dangerous things, such as preventing them from putting their fingers in a socket. This dad had put his foot down and the daughter got a shock as he calmly continued his conversation!
8. "Hi Mom, was this new make-up? You don't mind if I used it a little bit, do you? How do I look?"
9. "His father just said the word GREEN"
10. "My daughter shows her class something that smells good in her home ..."
11. This little boy took a bite from EVERY single apple. Just one bite!
12. "He's desperate because he doesn't want me to take away his sticker .."
13. To each his own play corner!
14. Mmm, what tasty toilet paper!
15. "I spent about $150 on a pool, but he prefers to stay in the bucket ..."
16. You come home from work and find THIS
17. The daddy back there will be thinking, "Send us some help, please!"