Mother publishes photos of her daughter with Down syndrome and their lives change completely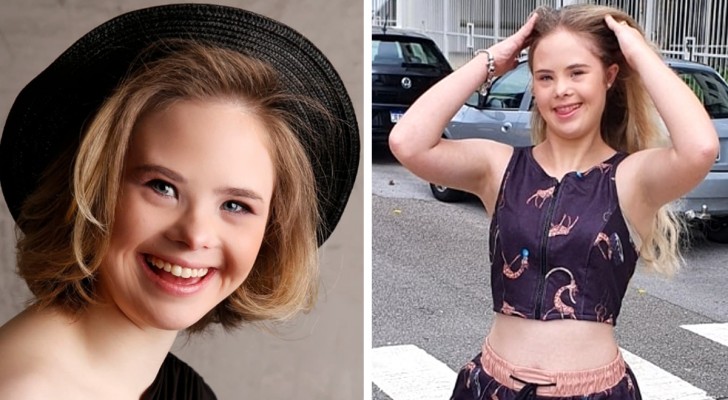 Advertisement
In life, we set ourselves goals: objectives, ambitions, even dreams, that we want to achieve. But often these projects are hampered by self-doubt - "Can I really do this? Who am I really? And how far can I go?". But these doubts can be overcome, as this story demonstrates.
A girl with Down Syndrome succeeded where so many thought she would fail. She has overcome all barriers and prejudices and you can see this in the photos below, where she shows off her determination and beauty:
via Sortra
Advertisement
It all started "just for fun", with the sole intention of a mother wanting to immortalize her beautiful daughter in photos.
After all, aren't all children beautiful in their parents' eyes? Well, for Rubia Traebert, a 44-year-old Brazilian mother, it is simply true that her daughter, Georgia, is nothing short of gorgeous.
Georgia, from a very young age, stood out among her peers thanks to her beautiful features. There would be nothing strange or particularly interesting in this, if it weren't for the fact that Georgia has Down syndrome.
Advertisement
As mentioned, Georgia's mother took photos of her daughter and uploaded them to Facebook: "I did it without thinking too much about it. I just wanted to do a nice thing for my daughter, to please her and preseve our precious memories", Rubia said.
But very quickly, the photos got over 1000 "likes" - a clear sign of how Georgia's beauty was appreciated by others.
Georgia was just 14 at the time, but it was clear that she had a gift.
Dressing up and posing for the camera seemed to come naturally to Georgia!
Each garment she wore looked great on her and her poses were almost "professional". It did not take much time for Georgia's online posts to go viral!
The first job offers in the fashion world did not take long to arrive, and as many as 5 modelling agencies offered to "recruit" Georgia. Georgia is now 18 years old, so what will she do in the future?
Modelling, of course! She even does commercials and poses for one of Brazil's most important stylists.
Georgia is a huge success and this is well-deserved. In fact, things were not always so pleasant for her and her childhood was tough: when she was younger, her classmates made fun of her because of her "condition".
Now, everything has changed and Georgia's mother made the following touching remarks:
"Georgia is a cheerful and happy young woman. She has no hang-ups about her Down syndrome: she has no complexes of any kind and this is how one should be", Rubia said.
As this story proves, with passion and the right motivation, there are no real limits to what we can do and/or who we want to be.
Advertisement