Newborn hears her dad's voice for the first time and gives him a smile that dazzled the web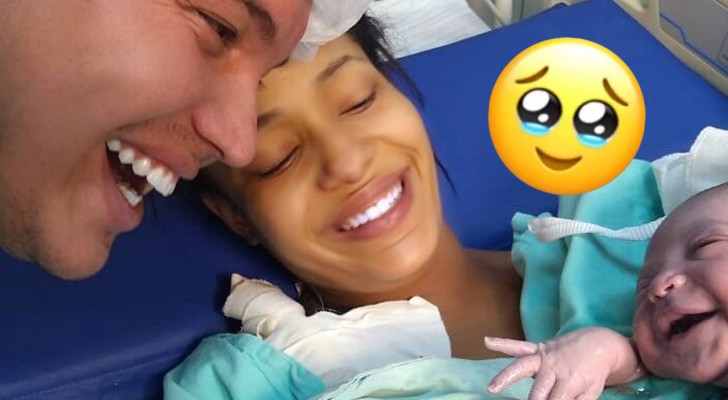 Advertisement
The birth of a child is a blessing and fills every parent's heart with joy and love. And the future, going forward with an infant, can be a whirlwind of emotions.
This is exactly what happened with the father and mother who are the subjects of this story. And not forgetting their new baby daughter, of course...
via Mag.
Advertisement
This story all took place in Brazil, where little Antonella was born on August 11, 2019. Mother Tarsila Rosa Cordeiro and father Flávio Dyego Vilela welcomed Antonella into the world with much joy. And mum and dad were side-by-side when the baby girl was delivered.
Flávio, who lives with his family in Madureira, Rio de Janeiro, told everyone how exciting it was waiting for the birth and living through his wife's pregnancy. Every day, Flávio would "talk" to his daughter through his wife's tummy.
Advertisement
"I thought I knew what true love was, but I hadn't yet seen the most beautiful smile in the world yet," Flávio said. As soon as Antonella was born, she gave her father one of the most beautiful moments in his life. Still in her mother's arms, the little girl heard her father's voice for the first time, opened her eyes and gave him a smile that could melt even the hardest heart.
A nurse in the clinic where Tarsilia gave birth, took a photo that captured the magical moment. And the photo quickly went viral on the web. "When I first saw my family" - reads the caption to the photo. A huge smile is seen little Antonella's face as she is looking at her father.
We know, instinctively, that having a child is the most beautiful thing that can happen to one in life, but actually seeing your baby, right there in front of you, being able to touch them, kiss them and feel their breath, is a unique emotion that must be cherished.
What did you feel when your child (or children) was born?
Advertisement