2-year-old boy hugs the pizza delivery man even though he was a stranger (+VIDEO)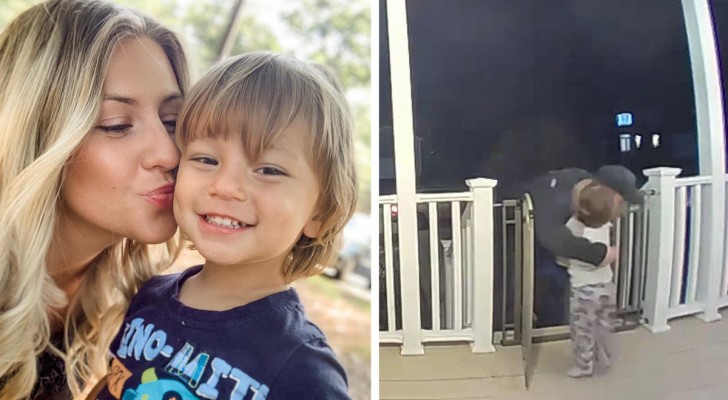 Advertisement
What drives a child to run up to a stranger and hug them warmly? This is the question that arises when watching the video of Cohen, a 2-year-old boy who showed his gratitude to a delivery man who brought pizza to his home. The video, shared by Cohen's mother on Facebook, touched many users. But behind this seemingly innocent show of affection lies a deeper and more touching story. Let's see how a simple hug can be a small miracle from God:
via CBS
Advertisement
The scene was recorded by the family's doorbell camera: in the footage, Cohen is seen greeting the delivery man with open arms. Cohen even tries to kiss him, but his mom tells him to only blow kisses with his hand. The delivery man thanks Cohen for his sweet gesture and wishes him a good night.
The video moved many users when Cohen's mother shared it on Facebook. "He is so cute and funny," Lindsey Sheely wrote when describing her son's hug. "I hope he makes you smile and warms your heart like he did for us. The coolest thing is that I put it on my social page last night and somehow it got to the man who brought us the pizza! Thank you, Ryan, for being so kind to our little guy!" she added.
Sheely found out that Ryan Catterson was the man who had delivered the pizza and who her son had hugged. She then wrote another post with more details about Ryan. "In fact, we didn't know how important Cohen's hug was for this stranger," Sheely wrote. After chatting with Ryan on Facebook, Sheely revealed the following about the man: "We found out that Ryan recently lost his daughter and he felt that Cohen's hug was a little miracle from God."
On Ryan's Facebook profile, he wrote about the death of his 16-year-old daughter, Alyssa. "I believe in miracles and I know I delivered that pizza for a reason." To help Ryan out, Cohen's family has started an online fundraiser to pay for his daughter's funeral expenses. "My heart is so heavy for this unfortunate family," Sheely wrote. "Anything that can help lighten the burden, I know it will be greatly appreciated," she added.
A simple but significant gesture that demonstrates how kindness can make a major difference in people's lives.