An ingenious husband invents a special bicycle so that he can ride with his wife who has Alzheimer's
Every self-respecting love story has its difficulties and problems to face. One of the most difficult tests to bear, probably, is when, with the onset of old age, the first ailments and diseases arrive.
When Glad Forward was diagnosed with Alzheimer's after 55 years of marriage, life changed drastically for the elderly couple.
Glad and her husband Bill loved spending their free time outdoors and exploring new places during their excursions and walks together. But since Glad had to start dealing with Alzheimer's - things have never been the same.
But despite everything, Bill refused to give up on their excursions together—and has invented a way of his own to spend his time outdoors with Glad, just like he had always done in the past.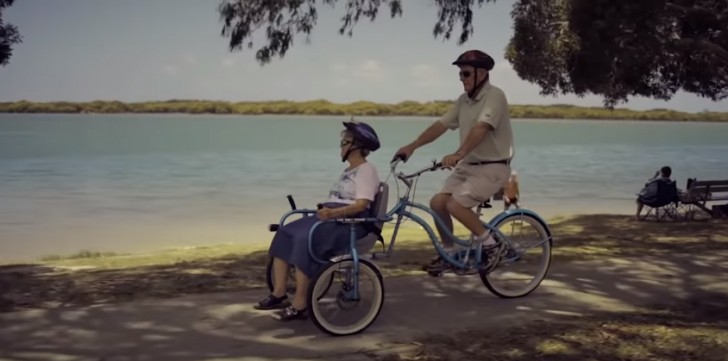 As a pathology, Alzheimer's involves not only the deterioration of memory but also the negative conditioning of physical movements. As the disease progressed, Bill's wife gradually was unable to walk independently.
For many people, this medical condition is considered a burden, but for Bill, who has been with his wife for half his life, it is not like this! He says: "For me, she is not a burden, and it is a great privilege to take care of the person I have loved all these years."
Bill is a truly caring and loving husband and literally does anything for his wife from the early hours of the morning when he wakes up until late at night before he goes to bed.
Consequently, Bill was not put off by the situation and, to help his beloved wife, he has made an ad hoc and customized bicycle to be able to ride with her just like in the old days.
Bill's invention is simple but it expresses all the love that can exist between two people who have supported and sustained each other for almost all their life.
In addition, this ingenious bicycle is easy to pedal and very comfortable for Glad when she sits upfront while Bill pedals and controls the bicycle from behind.
In this way, the two spouses can continue to spend their precious time together, doing the same things that have been their passions for over 55 years.
Bill, therefore, took his ideas for this project to his friend Ken McKenzie, who was able to build the prototype for this very useful bicycle that has improved the quality of Glad's daily life.

But most of all, this unique bicycle is a gesture of love from and for a truly special person.