Overweight woman marries a personal trainer: the couple are inundated with negative comments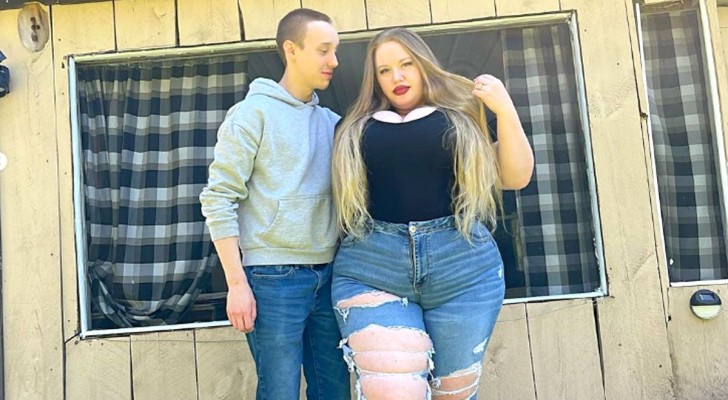 Advertisement
Choosing the person you want to be with means, first of all, believing in yourself: knowing that you are able to offer unconditional love to someone. Then, there are factors which inherently attract us to someone - emotional and physical. And, for better or worse, one of these factors is external beauty.
Outward appearances are relevant, especially at a younger age, when it comes to mutual attraction: how someone looks is the first thing we inevitably end up noticing when we look at someone. Of course everyone, has their own tastes, like the young man in this story. So, why were he and his partner "attacked" for being together?
via 7News
Advertisement
Beauty is subjective and there are no universal criteria to measure it: "what you like is beautiful" the expression goes. Yet nowadays, a sort of standard has emerged, canons of beauty capable of defining what the ideal body for both males and females should be. This has certainly not helped all those who do not conform to these "standards".
This is exactly what happened to Brittany Jacques, a 23-year-old young woman weighing 114 kg who has be rejected by her partners multiple times. Her ex-boyfriends have all given her an ultimatum: "either lose weight or I'll leave you".
In fact, Brittany eventually decided to give up having any kind of relationship in order not to be hurt and humiliated anymore. Then she met someone special: a personal trainer.
Advertisement
The young man we are talking about is Matt Montgomery, also 23 years old, and originally from Ontario.
A match made in heaven, Brittany and Matt ended up falling madly in love with each other: she had decided she no longer wanted to try to change her body to make someone happy; he had also had had a number of failed relationships.
In fact, to prove his love, Matt proposed to Brittany! But their idyllic love story has attracted many negative comments from observers.
Many people made fun of the couple: "She weighs at least twice as much as he does"; "You're not man enough to be able to be with a woman of that size" - these are just some of the mean things that others have spewed.
But the two ignore and pity those people who are unable to understand their love: "We feel so lucky to have met and we could not be happier!" declared the married couple. What do you think of this story?
Advertisement