A stray dog came onto a soccer field during a game and now she is the mascot of a Mexican team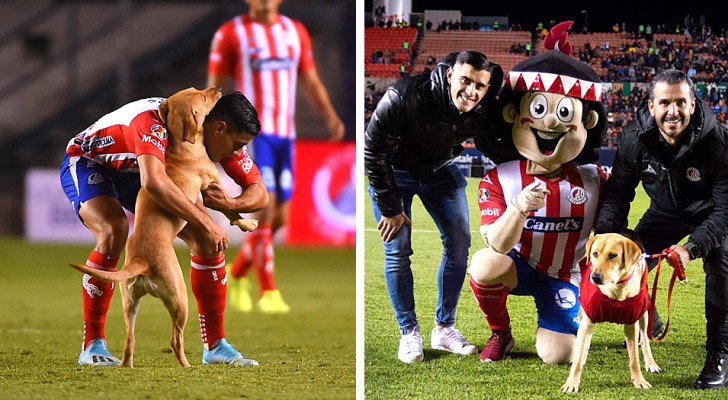 Advertisement
Sometimes, almost by accident, episodes happen that remain etched in the memories of many people and that change some of their lives in a radical way.
And this is exactly what happened in the case of Tunita, a homeless female dog who literally stole the hearts of thousands of people after sneaking into the "Alfonso Lastras" stadium in San Luis, Mexico during a soccer game.
Two soccer teams, Cruz Azul and Atletico de San Luis were playing on the field and nobody expected to see, in the middle of the game, a cute caramel-colored dog running and jumping on the grassy field from one side to the other, full of energy!
It was an entrance onto the soccer field that was as funny as it was unexpected, and it totally changed the fate of this little stray dog.
via Time 24 News
Advertisement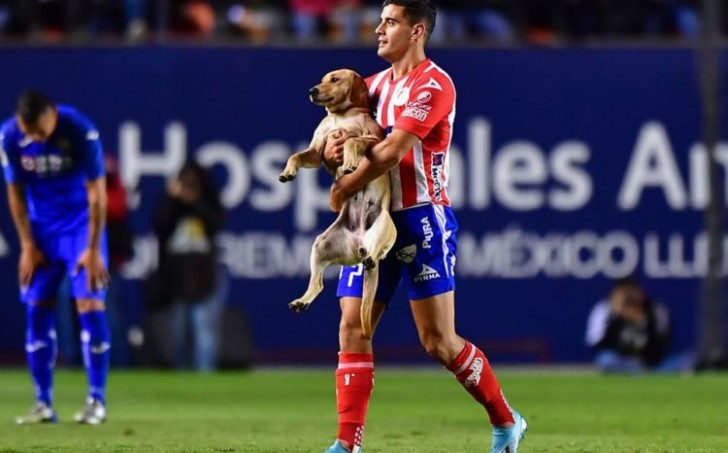 When Tunita came onto the field, she ran straight towards the Atletico de San Luis player German Berterame, who picked her up and gently carried her off the field.
The dog, in those moments, took advantage of the situation to cover the soccer player with kisses and, once taken off the field, the incident sparked the curiosity of the referee assistants, players on the bench, and other people present there.
The episode did not go unnoticed and, immediately after the game, the dog was "baptized" with the name "Tunita", and then proposed by the team's supporters as the new San Luis mascot.
However, at a certain point, they discovered that the dog had disappeared and the players, fans, and technicians took action to find her!
Advertisement
It took three days before the little homeless dog was tracked down and then officially presented as their four-legged mascot and "sustainer" of the Atletico de San Luis's indomitable team spirit!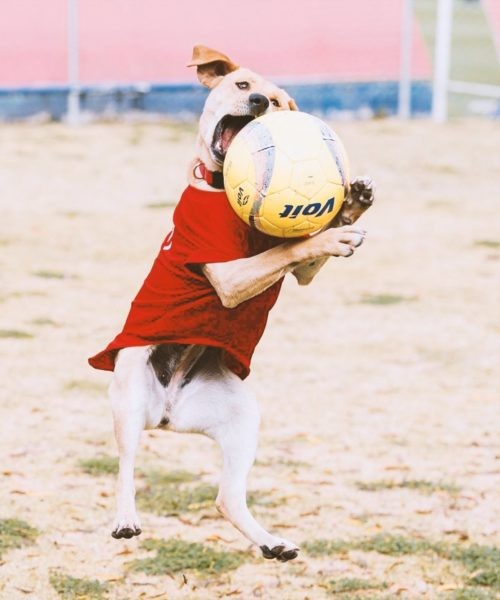 Wearing the team colors and dressed in her special number 12 jersey, Tunita is now part of this Mexican football family, and her life has changed forever!
After all, for her, a ton of fun is guaranteed and as soon as she can Tunita does not miss the opportunity to play a little with the soccer ball and her new sports friends and fans.
Without a doubt, Tunita is a splendid mascot and we wish her all the happiness possible!
Below is the link to a video of the Atletico de San Luis team and that special moment on the field and the subsequent adoption of Tunita as their team mascot:

https://www.facebook.com/AtletideSanLuis/videos/2481872202067049/?v=2481872202067049