20 photos in which rescued and adopted dogs and cats express love and gratitude for their new life
1. The time I saved a male kitten from the street and my female cat started cuddling and hugging him!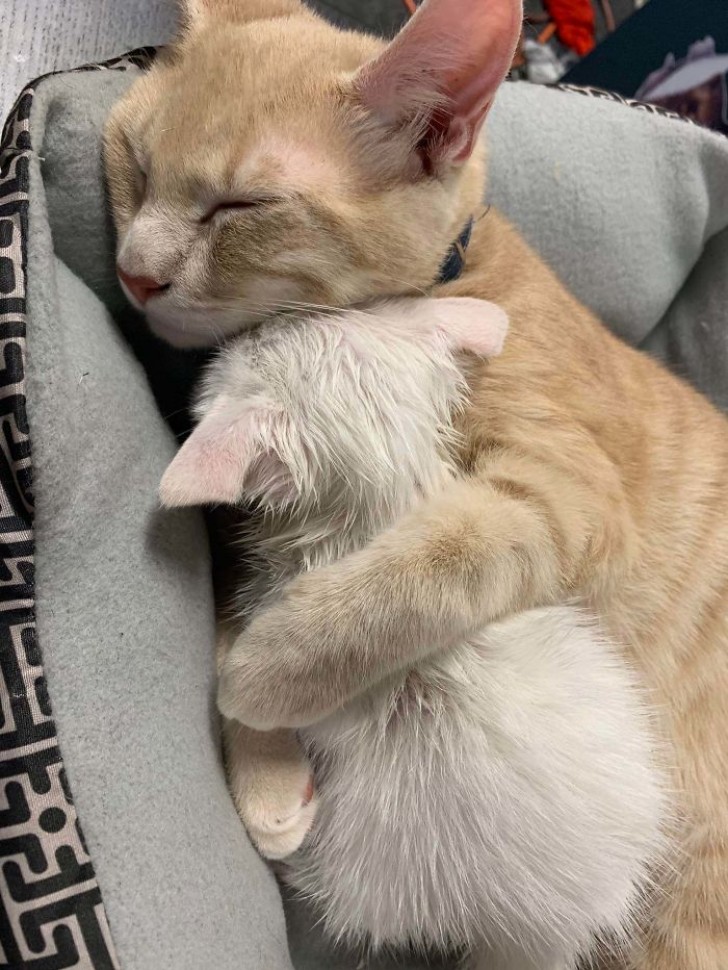 2. My friend has just adopted a dog ... and they are perfect together!
3. We adopted an 11-year-old tomcat from a Chicago animal shelter. Between him and my 13-year-old daughter it was love at first sight. This photo was taken after she had just come back home from a week at summer camp!
4. The tomcat I saved some time ago is now reassuring the little male puppy I have just adopted ... he is telling him that everything will be fine and that he has arrived in a house full of love!
5. Today, I adopted two kittens, nearly eight weeks old. They are brothers! At first, I had applied for only one, but when I received the phone call in which they confirmed the adoption, I was asked if I wanted to adopt the two kittens together because the people who were supposed to take the baby brother had changed their minds. I present to you—Kingston and Derby!
6. Rescued from the street and taken to the vet ... this dog's look of love says it all.
7. Jubilee, a somewhat curious-looking Husky, has finally been adopted!
8. Karen and Kevin have been adopted ... and not purchased!
9. On the way back home after being adopted. "Like owner, like dog!"...
10. The way my new puppy dog looked at me all the way home melted my heart.
11. I adopted her two weeks ago from an animal refuge. I believe she is really happy that I chose her...
12. We adopted an Australian Shepherd dog that had been abused to keep our dog company. Now the two male dogs have become inseparable buddies!
13. Here we present Ruger! We rescued him in August after someone had left him in a box on the street. Now, the thought that he might not have survived makes my heartbreak.
14. I adopted this little guy a week ago. He was afraid of everything, but he decided to trust me. And this photo was taken four days later!
15. I adopted this elderly 11-year-old tomcat. And the animal refuge volunteer had warned me that he was a hyperactive cat and that it would be difficult to get him to settle down. Guess what?! Now, he has become my shadow!
16. I adopted this guy yesterday and I couldn't be happier. His name is Moose!
17. I rescued this male puppy from the street. This is his first nap with me after a bath and a tasty meal.
18. We saved him when he was just two weeks old. Now, he thinks I'm his mom.
19. Today, I adopted this soft little "butter bun".
20. Now, that he has been adopted, this lucky cat clearly feels like he is in seventh heaven!