Puppy accompanies his best friend to school every day until he graduates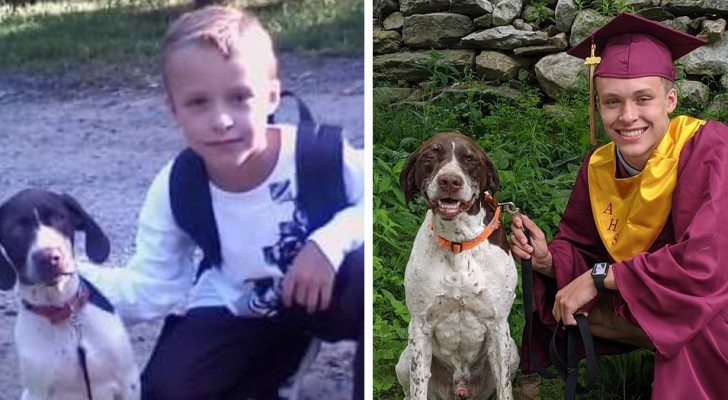 Advertisement
When you decide to welcome a pet into your home, it is always a happy event. In some cases, some people start off thinking a pet is just an animal who lives in their home - but later they realize that their pets are so much more: they become part of the family.
An example of this is Ruger, a dog who accompanied his best friend from his first day at elementary school until he graduated years later.
via TheDodo
Advertisement
On his first day at elementary school, little Dylan Bliss posed for a photo with his cute puppy, named Ruger, by his side. In fact, a deep friendship developed between the two and Ruger became Dylan's constant companion. "No matter what grade I was in, I would always be greeted by Ruger at the door when I came home from school," Dylan said.
After 11 years, Dylan took a new photograph with Ruger: this time, however, Ruger is old and Dylan is a young adult. The photo shows them together with Dylan in his graduation clothes. Dylan's mom, Corie, decided to share both photos on Facebook.
"No matter what I was doing, Ruger was always there with me. On vacation, after school, he's always been there with us. He's present in almost every memory I have of my life," Dylan commented. "That's true," said Corie. "I have dozens of photos of our beautiful puppy," she added. "We have a small farm and he loves all the animals. He loves running around and swimming in the pool. He has a very nice life. We have had Ruger since he was born and he is a part of our lives," Dylan said.
And we hope that Ruger will be around for a long time to come living with this wonderful family.