An abandoned pit bull cannot stop embracing the young woman who adopted him from an animal shelter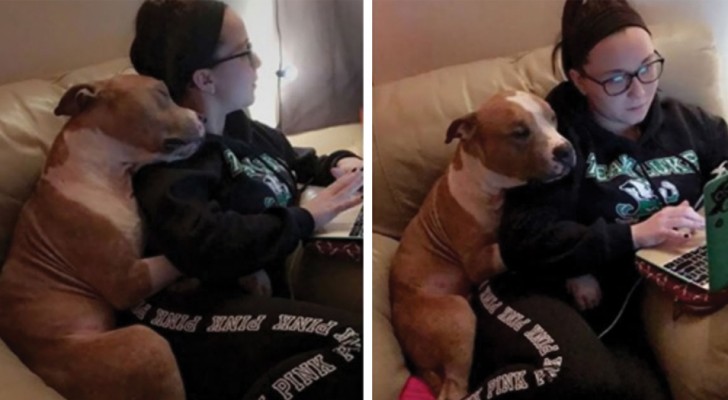 Advertisement
Adopting a dog from an animal shelter is an exemplary action. Every dog ​​deserves to have an owner, who can give it all the attention it needs and guarantee it shelter from the cold.
Although animal shelters can be sad places, there is always hope. In fact, the dogs and cats, as well as the volunteers who spend their time and energy there, maintain a positive attitude and believe that there is always the possibility that someone will come to the shelter with the intention of saving a life.
Fortunately, in the world there are people like Kayla Filoon, a young woman who really wanted a dog to love: and she found it in an animal shelter.
via The Dodo
Advertisement
Determined to adopt a dog, Kayla went to an animal shelter and while there, her eyes met those of a battered male pit bull dog.
The dog's previous owner no longer wanted it and had left it at the animal shelter. The pit bull was very thin and it had no hair on its ears or tail.
Despite the dog's appearance, Kayla knew in her heart that this pit bull dog was exactly why she had come.
Russ, this is the name that Kayla gave to the pitbull, immediately became very attached to his new owner.
After Kayla had taken him home, she noticed that the pit bull was still very frightened and disoriented! In fact, he never left her side for a second.
One evening, Kayla was on the couch doing her homework on her laptop and Russ was with her, but he was not just sitting next to her. Russ was cuddled up very close to her as if looking for company and at the same time he wanted to thank the young woman for having adopted him.
A very tender scene that one of Kayla's housemates captured with a photo. Russ fell asleep near Kayla, feeling, nevertheless, sheltered in a new house and surrounded by people that were still unknown to him.
Many people think that pit bulls are dogs from which it is better to stay away but perhaps the difference is made by the human being and the way in which that person trains and treats a dog.
Russ, like so many other stray dogs or those dropped off at animal shelters, was just an abandoned pet in need of a home and lots of love.