Dog can't stop hugging the person who saved him (+ VIDEO)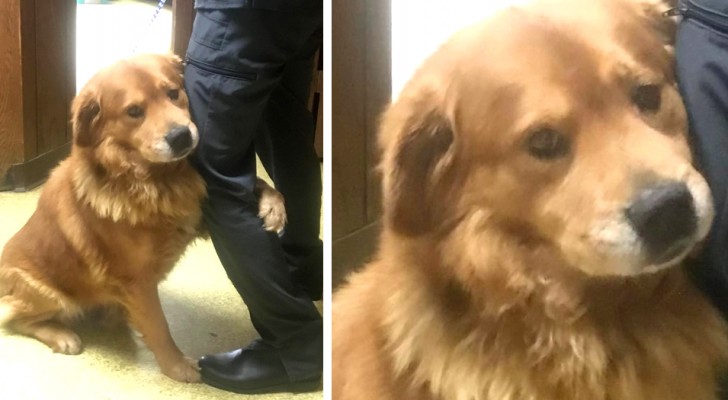 Advertisement
It is truly amazing how many dogs have been abused or abandoned in the past, but they still show no resentment towards humans. Yet it is only because of human selfishness that they never knew the true affection of a loving family or, worse still, grew up chained or were mistreated. Luckily, dogs seem to "recognize" those with a big heart and perhaps that is why they are able to trust others who will give them a bowl of food, cuddles and lots of love for their lifetimes.
Clarence is a big dog who, after living most of his life in a backyard, was abandoned just outside a shopping mall. An association that deals with finding a home for abandoned dogs like him, fortunately intervened before this sweet, honey-colored Golden Retriever was euthanised. 
via Facebook / Hounds in Pounds, Inc
Advertisement
Clarence seems like one of those very good dogs who would like nothing more than to be included in a loving family. Unfortunately, he was abandoned by cruel people in the parking lot of a Walmart in the United States. The beautiful Golden Retriever suddenly found himself alone, but he immediately made "friends" with two other stray dogs that were roaming around (one of them was a German Shepherd). Animal control officers managed to catch Clarence and the German Shepherd and took them away.
This was a dramatic encounter and the animal control officers called Clarence's owners. They refused point-blank to take him back. Here, then, is how this big dog ended up on the "death" list for euthanasia. Fortunately, volunteers from Hounds in Pounds, an association that cares about dogs and takes care of finding them a new home as soon as possible, were able to discover Clarence and start looking for a home for him.
The volunteers immediately noticed Clarence's kindness: although he hadn't had a good life, he still kept his faith in man intact. Proof of this is the photo of the sweet dog literally hugging the leg of the person who saved his life.
Advertisement
With that hug, Clarence seems to be saying "Don't go, please. Take me with you and don't leave me here." The volunteers who saved the dog wrote on Facebook: "He is sweet, kind and he is so grateful to be safe with us." The good news is that Clarence has found a family who is willing to keep him forever and give him the life he deserves.
Clarence has found a loving family!
Great news indeed for this beautiful dog!