After losing her litter, this mother cat found new happiness by cuddling and nursing orphaned puppies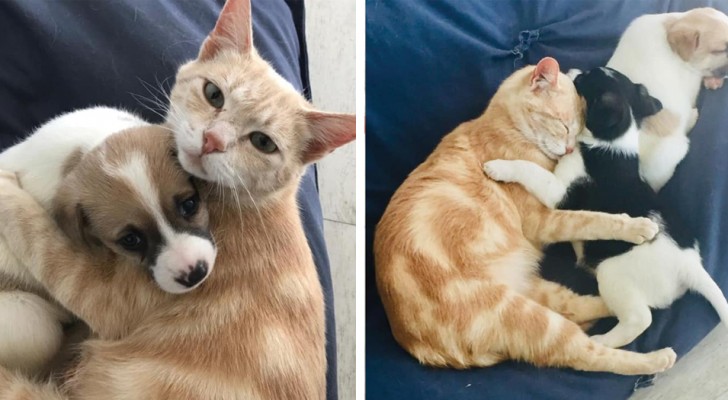 Advertisement
For a mother, not being able to take care of her children is enormously distressing.
It is also true that the maternal instinct often overlooks or even ignores obstacles, such as a difference in species.
And this is how it can become completely spontaneous and natural for a cat to become the adoptive mother of a litter of puppies and for both to regain their lost happiness and serenity!
Here is the curious and touching story of Katryn, the cat and her puppies.
Advertisement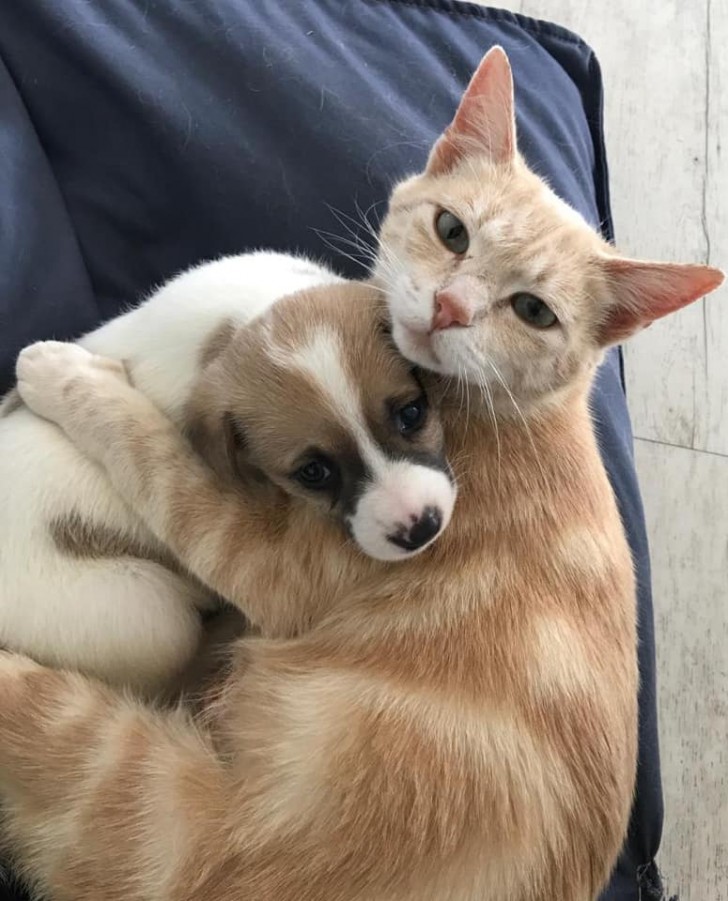 Langebaan Animal Care/Facebook
Katryn is the name of a cat who arrived in an animal shelter, the Langebaan Animal Care, after being abandoned while still pregnant with her kittens.
Unfortunately, the kittens did not make it and Katryn suffered a lot when they died. In fact, the animal shelter operators heard the cat crying and meowing for hours, probably hoping to hear a response from her kittens...

Katryn is naturally a very affectionate cat, so, it was even more excruciating to see her restlessly socializing with the other animal guests in the shelter, mostly dogs, and in any case not being able to find serenity.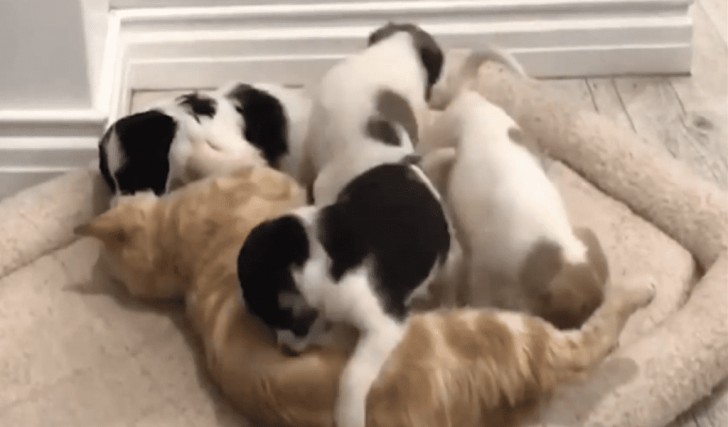 Langebaan Animal Care/Facebook
One day, shortly after her arrival, a litter of four puppies was found that had also been abandoned. The puppies were only 3 weeks old and for this reason, they still needed their mother's milk for nourishment.
Katryn had not yet been sterilized, so as not to cause her further stress, and for this reason, she still had the mother's milk that she would have given to her own kittens.
Observing the situation, the animal shelter operators immediately knew what needed to be done.
Advertisement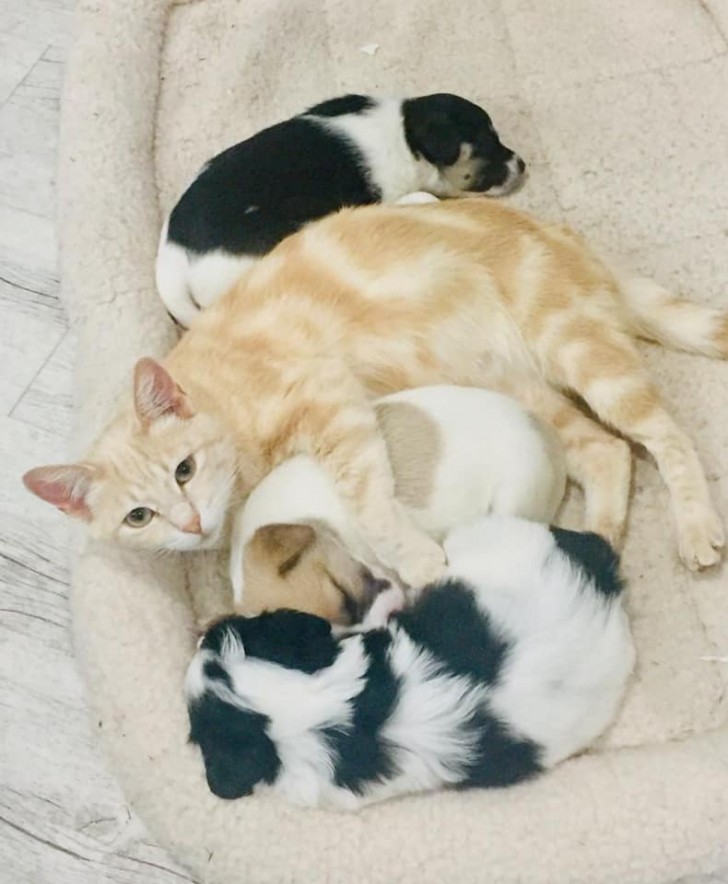 Langebaan Animal Care/Facebook
The mother cat Katryn was put in contact with the orphaned puppies and what happened afterward delighted everyone present!
In fact, after discovering and sniffing each other, Katryn started licking the four puppies to wash them.
So, the animal shelter operators let her continue, and when she had finished, the cat stretched out on her side to cuddle with the four little puppies.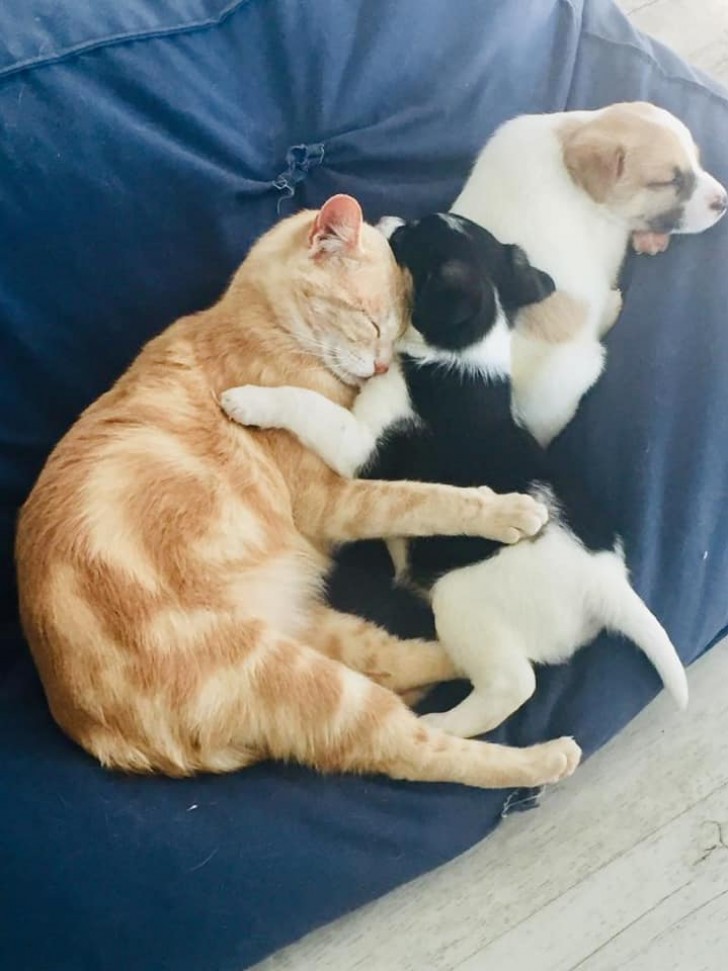 Langebaan Animal Care/Facebook
Then the miracle, that everyone hoped would happen spontaneously occurred—Katryn started nursing the four puppies!
The mother cat had suffered from losing her litter of kittens and the puppies no longer had a mother, therefore, everything was resolved in the most natural of possible ways with each one finding comfort in the other.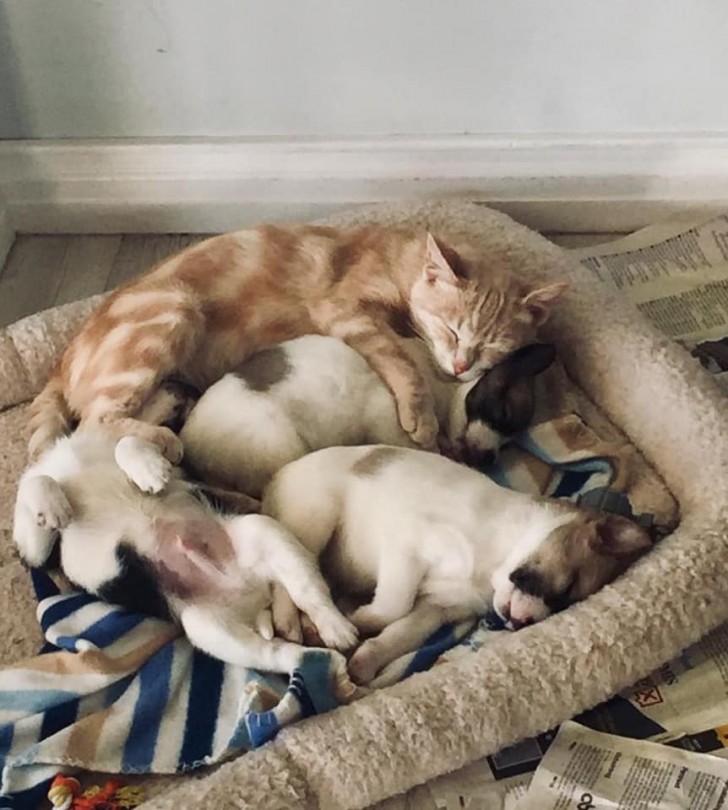 Langebaan Animal Care/Facebook
Consequently, the little puppies were able to live and grow thanks to the mother cat, Katryn's milk.
And the once serene and happy cat, Katryn was now back, after having experienced days of great sadness due to the loss of her kittens!