A puppy dog in an animal shelter gets excited when it recognizes the firefighter who had saved her from the streets
A 3-month-old female pitbull puppy named Chunk was abandoned, tied to a tree, and left out in the rain!
It was a cold October day in Sacramento, California, and the firefighter company at the local fire department was responding to an emergency call when a little puppy was spotted on the side of the road tied to a tree!
The little puppy, cold, trembling, and obviously suffering from mange, seemed frightened and confused as the firefighters passed, unable at that moment to stop and help her.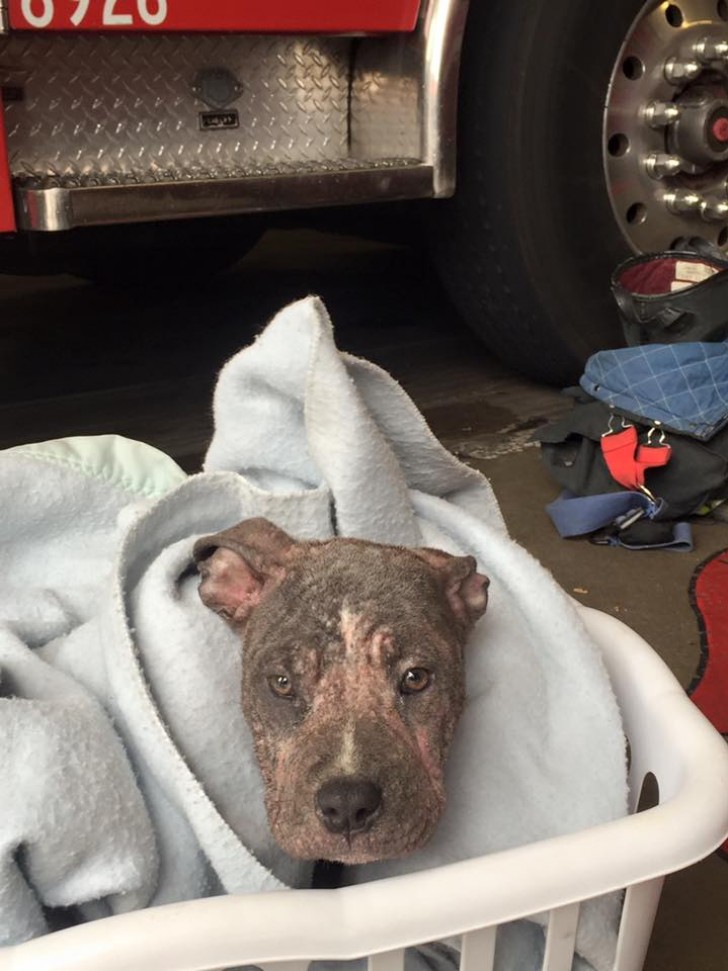 After answering their emergency call, fireman Mike Thawley decided to pick up the puppy while they were on their way back to the fire station.
The little puppy's legs were swollen and covered with scabs, and she had lost most of her fur due to mange, a common skin disorder in abused dogs.
After some necessary first aid treatment, they took her to the Front Street animal shelter so that she could receive further treatment and, hopefully, find a home.
The animal shelter staff began to treat her mange and kept her warm until her fur grew back. Although her mange was not contagious, her recovery and rehabilitation still took time.
Unable to stop thinking about the little puppy dog, Mike Thawley returned to the shelter the next day. Chunk clearly had not forgotten her savior and greeted him with an adorable enthusiasm that is clearly visible in the touching video they recorded.
"We simply fell in love with her," Thawley said of the firefighters who rescued her that night.
But the rescue was not yet finished. When Thawley returned to the animal shelter with his wife and three daughters to see the pitbull puppy, it seemed like it was not just Mike who had been won over by the little dog.
In fact, after meeting Chunk, it was very easy for the entire Thawley family to decide to start the adoption process and welcome her into their family.
After waiting four months for the completion of the mange treatment and being completely rehabilitated, they were able to pick up their adopted puppy and take her home, and that is when they named her Chunk.
A very happy ending for a lovely story, which we can imagine has melted your heart!