A husband gives his wife a birthday cake in the shape of her favorite object --- a giant Amazon package!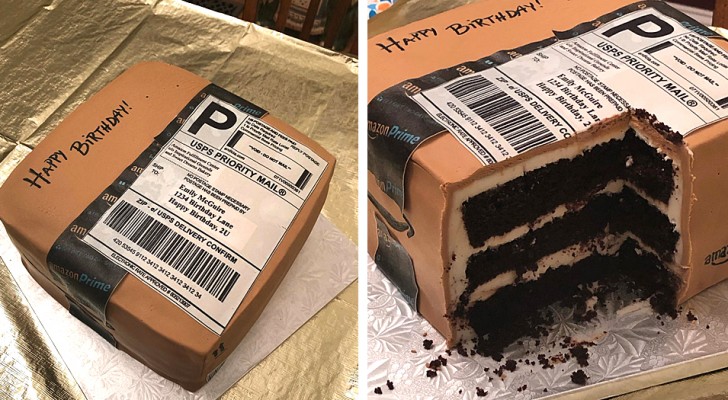 Advertisement
Online shopping, as everyone knows, is a great convenience.
With a single gesture, anywhere and at any time, it is possible to have at your fingertips an enormous quantity of items to buy --- all delivered conveniently to your door!
Perhaps, however, this immense ease with which it is possible to shop, often for some becomes almost an addiction ...
This is when every object considered useful or vaguely attractive ends up in the online shopping cart, with some inevitable suffering for someone's bank account!
Photographer Emily McGuire, by her own admission, is a proud and assiduous buyer from Amazon.
In fact, on average, about three unmistakable brown cardboard boxes a week arrive at her house, packed by the online shopping giant.
Consequently, her husband Waylon had a brilliant and ironic idea to "celebrate" both Emily's birthday and her passion for online shopping in an unforgettable way!
via Huffpost
Advertisement
For her birthday, here is her husband Waylon's idea! A personalized birthday cake made specially by the Sweet Dreams Bakery in North Carolina, which looks like an Amazon package in every way!
That's right! In fact, at first sight, it is impossible to realize that it is a delicious chocolate cake. In addition to the label with the data for the delivery (with the playful address "1234 Birthday Lane"), the ribbon with the Amazon Prime logo was also added to the "package cake".
Waylon's gift for Emily is a true masterpiece of cake design, which surely at first had momentarily deceived the birthday girl, convinced that she had received yet another brown Amazon package with another order inside.
Advertisement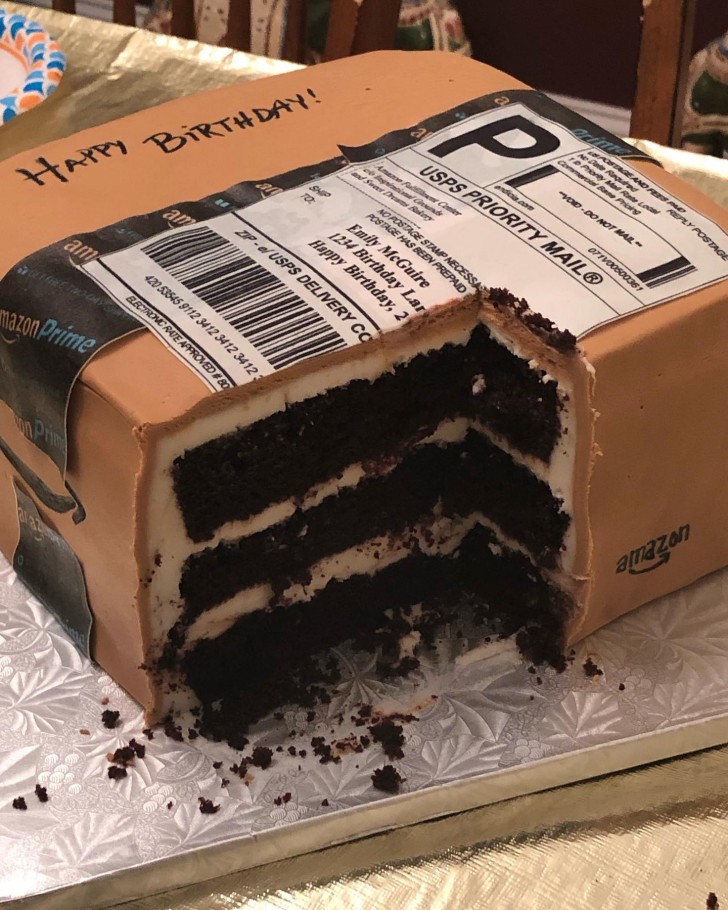 Emily McGuire Photography/Facebook
The photos of the Amazon package cake, published by Emily on social media, quickly went viral and prompted many favorable reactions from many people who feel "solidarity" with the woman because they are also "addicted" to making online purchases.
An original idea, charming and very appetizing ... In fact, just look at that delicious chocolate cake! Wouldn't you like to eat it, maybe between one online purchase and another?
Advertisement