Peruvian policemen install water and pet food dispensers for stray dogs, and their gesture receives global praise
When we walk on the sidewalks and pathways in our cities or drive our car, very often our attention is drawn to the considerable number of four-legged friends left to wander around on the streets.
Without their owners, these four-legged pets are at the mercy of the harsh life of living on the streets in a busy city, and the sight of them stirs our emotions and inspires tenderness. 
Now, the national police in Peru have created a noble initiative to provide water and pet food for stray dogs and cats, and the gesture was immediately hugely successful.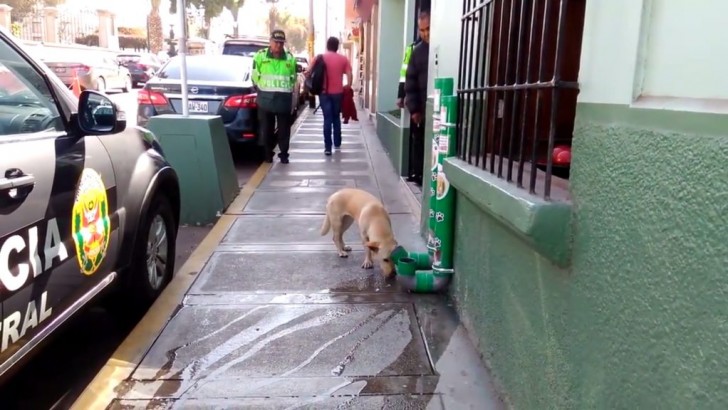 This story happened in Tacna in Peru, when the town's police patrol set up water and pet food distribution machines for the large number of stray dogs in the area.
This is an initiative that came after the announcement in 2017 of the official estimates regarding the number of animals abandoned on the streets in the Peruvian nation, which amounted to about 1 million animals.
Seeing this situation, the Tacna police station organized a solidarity project then has started a chain reaction of similar initiatives, like the one undertaken in June 2018 by the police in the district of Monsefù in the city of Chiclayo, also in Peru.
The touching gesture of the Monsefù police station was so successful that the official Facebook page of the National Police of Peru also shared information about the initiative, urging all the Peruvian citizens to install, with the help of their neighbors or municipal administrations, water and pet food dispensers on their local streets to help support their four-legged friends that are without a home.

And you what do you think? Do you think the Peruvian initiative is an effective gesture to fight pet abandonment and help the less fortunate dogs and cats that wander the streets looking for love and help?
Source:
#ExitosaTacna ¡BRAVO! Policías instalan comederos para perros de la calle Una gran iniciativa tuvo personal de la Policía la comisaría central de Tacna y es que en su labor solidaria instalaron un comedero para perros callejeros. En el video se observa como un perrito abandonado tomaba agua del recipiente casero hecho con tubos. Con esta idea se espera que más dependencias policiales se sumen a esta campaña así dejar un mensaje positivo.

Pubblicato da Exitosa Sur su Mercoledì 26 settembre 2018