She has been taking care of her husband for 20 years and on his death, her son takes her on a trip to 20 countries around the world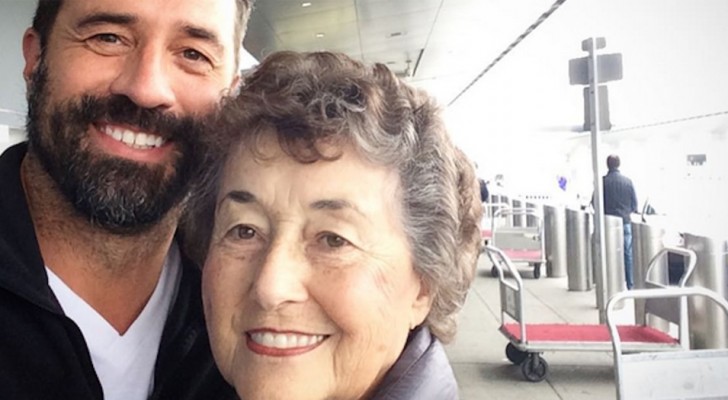 Advertisement
Parents take care of their children for life; but, once they have grown up, the children rightly leave home to continue their life journey independently.
The result is that often parents find themselves alone, supporting and keeping each other company in their old age, gladdened by visits from their children, and perhaps even grandchildren.
However, this family narrative does not always reflect reality and it is certainly not the story of the Brooks family.
This is not only because the father, Karl Brooks, passed away after 20 years of illness, but also because his son Barton had a wonderful idea that completely changed the life of his mother Carla.
Advertisement
In 1996, the Brooks family was shocked by an unfortunate event. The dad, Karl was the victim of a stroke that left him disabled. Fortunately, his wife stood by him, caring for him with love and diligence for 20 years; until, in 2016, Karl passed away.
For Carla, it was a hard blow: despite his long illness, her life had flowed according to the pace of her husband's needs, and now nothing seemed to make sense anymore. It was then that her son Barton had a great idea.
Advertisement
While looking through a family photograph album, he found photos of his mother during her trip to Europe in 1962. At that moment, he understood what he could do for his mother! In fact, he invited her on a trip around the world, visiting 20 countries - one for each year that his mother had spent taking care of his father. An extraordinary and remarkably kind way to thank her for caring for his father and to warm her heart at such a difficult moment.

Here is how Barton revealed his surprise: One day, he called his mother asking her what she planned to do and she replied that she was going to visit some friends. Barton recalls that at that point, "I invited her to travel to Paris with me and she was very excited, but back then I had no idea that we would be traveling for several months and not only to Paris, but also to London, Barcelona, and Rome. A great adventure to reward her for all the years she had dedicated to my father."
Truly a wonderful gesture on the part of a son, especially nowadays when, unfortunately, many elderly people are left to themselves, far from the warmth and care of a family.
We hope that the example of Barton Brooks is followed by many other people. Although, it is not necessary to take your parents on a trip around the world, nevertheless, by spending as much time as possible with them, keeping them company and helping them, their hearts will be full of pride and love for you.
Advertisement